JERUSALEM -- The Israeli and Palestinian leaders agreed Tuesday to begin tackling the core issues of a peace agreement in a push to revive stalled negotiations ahead of the arrival of President Bush.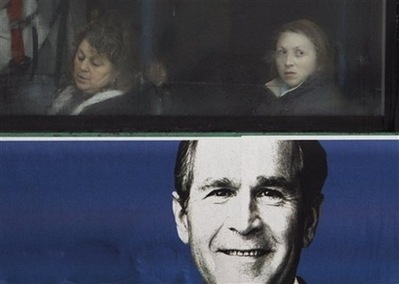 A poster placed by a right-wing Israeli group showing US President George W. Bush is seen on a bus in Jerusalem, Tuesday Jan. 8, 2008. [Agencies]
The renewed peace talks, formally launched at a conference in November in Annapolis, Md., are a centerpiece of Bush's agenda in his last year of office. But negotiations have made little headway, marred by Israeli construction plans in disputed territory and Palestinian militant attacks in the West Bank and Gaza Strip.
"We think the visit is an opportunity to energize the momentum of the post Annapolis dialogue between us and the Palestinians," Israeli government spokesman Mark Regev said.
Also Tuesday, a pair of Lebanese rockets struck a northern Israeli town before dawn, the second strike from across the border since Israel's summer 2006 war with Lebanese Hezbollah guerrillas. No one took responsibility for the attack. United Nations spokeswoman Michele Montas said UN officials had begun investigating the rocket fire, and she did not dispute the notion that the rockets may have been fired from an area where UN peacekeepers operate.
At their meeting, Israeli Prime Minister Ehud Olmert and Palestinian President Mahmoud Abbas pledged to have negotiators begin work immediately on the so-called final status issues. These issues include the final borders between Israel and a future Palestinian state, competing claims to the holy city of Jerusalem, the fate of millions of Palestinian refugees and Israeli security concerns.
Both Regev and Palestinian negotiator Saeb Erekat said the two leaders authorized their chief negotiators "to conduct direct and ongoing negotiations on all the final status issues."
"The president (Abbas) urged that the year of 2008 be a year of peace," Erekat said.