UNITED NATIONS - UN Secretary-General Ban Ki-moon vowed on Monday to strengthen the role of the United Nations in the world in order to face up immense challenges in 2008.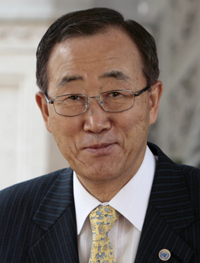 UN Secretary General Ban Ki-moon [File photo] 
Addressing his first press conference of the year, Ban said "we enter 2008 with new determination - and new opportunities - to strengthen the UN's role in the world."
He laid out his two prominent agendas in this coming year - climate change and peacekeeping operation.
"We opened a new chapter on climate change. We took on new and daunting challenges in peacekeeping, most specifically in Darfur," Ban noted.
He observed that the United Nations should perform a leading role in tackling climate change which requires sustained and coherent international action beyond what nations or markets can provide by themselves.
"That is why I believe so strongly in the Untied Nations. Only the United Nations can take on the issues that affect us all, that shape the fate of the earth and its peoples," Ban stressed.
The UN chief also called for successful conclusion on Darfur issue, stressing the full cooperation of the government of Sudan and the support of the international community.
Ban emphasized the importance of the rapid deployment of the Hybrid Operation as agreed in Darfur, saying he spoke by telephone with Sudanese President Omar Hassan al-Bashir last week and planned to meet with him at the upcoming AU summit in Addis Ababa.
He urged the Sudanese government to commit themselves to the technical or administrative issues as agreed, including a status of forces agreement and also composition of forces.
Meanwhile, Ban called on the international community to provide necessary resources to help resolve Darfur issue.
"We therefore move into the new year with renewed commitment to our ultimate mission - building a stronger UN for a better world," he said.
Ban promised to modernize, revitalize and streamline the UN system, upholding the highest standards of ethics, performance and accountability.