SEOUL -- At least 27 people were killed and 13 others remained missing after a massive explosion took place at a basement of a warehouse in South Korea on Monday.
The accident occurred in Icheon, 80 km southeast of Seoul, at around 10:49 am local time (0149 GMT) in the basement of a two-story warehouse owned by the logistics company Korea 2000 and caused heavy fire, police officers in Icheon's Police Station told Xinhua.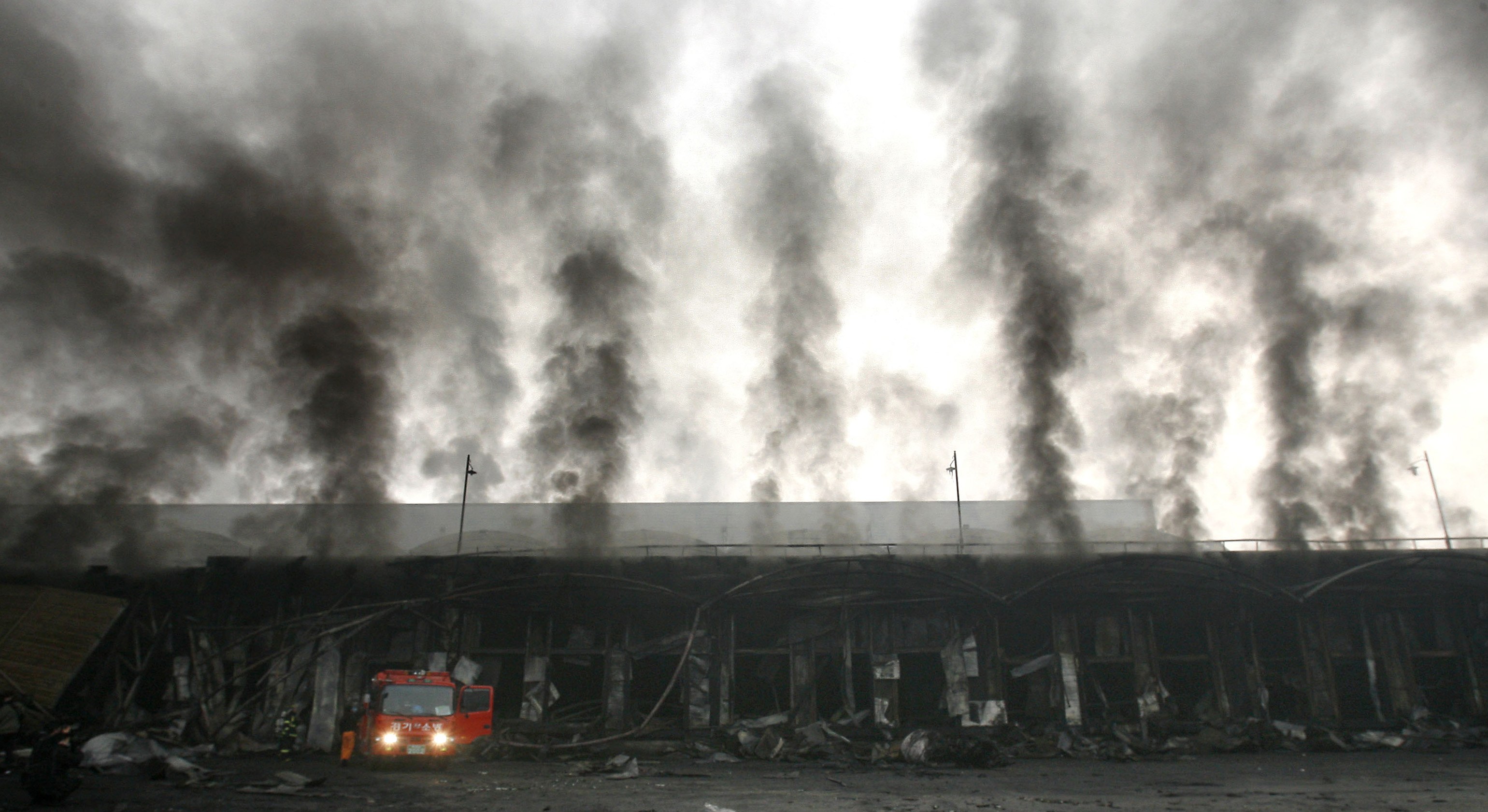 Firefighters try to put out a fire at a warehouse in Icheon, about 60 km (40 miles) southeast of Seoul, January 7, 2008. At least seven people were killed and 32 others reported missing on Monday after a fire ripped through a warehouse for frozen goods under construction in Icheon, a fire official said. [Agencies] more photos
Local media said there were a total of 57 people injecting refrigerants into the warehouse or doing other works when the explosion occurred.
As of at 08:30 pm local time (1130 GMT), the rescue workers have confirmed 27 death and 13 others missing in the accident. Except for those dead or missing, seven people made to escape safely from the spot while 10 wounded have been sent to hospitals after being rescued.
According to South Korea's Yonhap News Agency, there are two foreign labors among the dead or the missing. However, their nationalities and identities are still under investigation.
Among the wounded, there is at least one foreign labor, local reports said.
The Chinese Embassy in South Korea told Xinhua that it is working with the South Korean government to confirm whether there are any Chinese victims.
The local police refused to give comments on the causes of the tragedy. However, an official from the Icheon fire station said that inflammable vapor from the basement's engine room was believed to have caught fire, setting off three consecutive explosions at 10-second intervals.
Police officers of the Icheon Police Station told Xinhua that the missing people are likely dead due to the explosion, fire and toxic smoke fulfilling in the 20,000-square-meter basement.
The death toll will rise as more death to be confirmed, local police said.