Twelve Chinese nationals died and another was badly injured when a fire and explosions ripped through a nearly completed cold storage warehouse south of Seoul and killed a total of 40 workers, Xinhua News Agency reported Tuesday.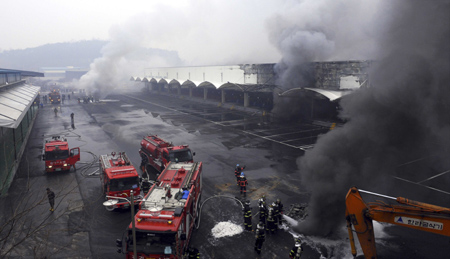 Firefighters dig holes to release smoke as they try to put out a fire at an underground warehouse in Icheon, about 60 km (40 miles) southeast of Seoul, January 7, 2008. [Agencies]
Most of the victims were so badly burned that they could not immediately be identified.
The Chinese Ambassador to South Korea Ning Fukui met with South Korean Assistant Foreign Minister Shim Yoon-jo Tuesday morning and expressed great concerns about the casualties from the Icheon explosion.
Ning urged the South Korean government to take appropriate measures to deal with the casualties during the meeting.
The dead were found in the basement of the burned-out warehouse when the fire was extinguished late Monday, said Kim Jung-geun, a fire official in Icheon, about 80 kilometers (50 miles) south of the capital.
Ten workers were hospitalized for burns and smoke inhalation, Kim said. Another seven people were able to escape from the building.
A doctor at Bestian Medical Center in Seoul, which specializes in burn treatment, said four of the injured were in intensive care with burns over more than 40 percent of their bodies.
The physician, who spoke on condition of anonymity, citing patient confidentiality, said one of the four was an ethnic Korean from China.
China has a sizable Korean ethnic group and in recent years some have migrated to South Korea to seek work.
Workers at the site were injecting urethane foam into the walls of the facility in the basement when the fire started, Kim said.
A witness, identified only by her family name Song, told television station YTN that there were several huge bangs as the fire broke out, shaking the building and breaking the windows of a building next door.
Kim said the explosions were caused by the fire, not the other way around. He said arson was not suspected.
More than 500 firefighters battled the blaze.
The badly burned condition of the bodies made identification difficult, Kim said. Only one of the dead had been positively identified, he said.
Police were investigating but had to yet to find an exact cause, said a detective working on the case. He asked not to be named as the investigation was still under way.
Cable news channel YTN showed firefighters battling thick black, brown and white smoke, some of it spewing from underground. Hoses atop fire trucks shot water toward the building.
An official at Korea 2000, a logistics company that owns the facility, said the building had been under construction and was to be used for refrigeration.
The official said workers were applying the final touches to the facility when the fire broke out. She requested anonymity, saying company rules prohibit employees from speaking to the media, and offered no other details.