NEW YORK -- Oil prices vaulted to a record $100 a barrel on Wednesday as violence in Nigeria, tight energy stockpiles and a weaker dollar triggered a surge of speculative buying, dealers said.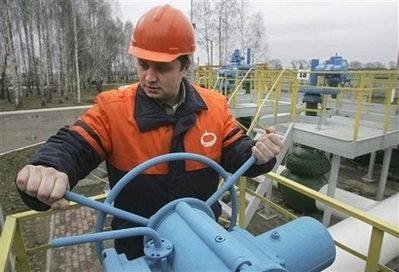 A Belarusian worker stands on a platform of a pump station of the pipeline 'Druzhba' near the village Bobovichi, some 330 km (206 miles) southeast of Minsk, Belarus, in this Jan. 11, 2007 file photo. [Agencies]
Oil's climb to the psychologically key triple-digit price helped send stocks tumbling on Wall Street and further darkened an already gloomy economic outlook in the United States, which has been battered by a housing crisis and credit crunch.
"Oil hitting $100 a barrel has sparked some concerns about the consumer and inflation," said Todd Salamone, vice president of research at Schaeffer's Investment Research.
US crude traded once at $100 a barrel, up $4.02, before easing back to settle $3.64 higher at $99.62. It remains below the inflation-adjusted high of $101.70 hit in April 1980, a year after the Iranian revolution.
London Brent crude rose $3.99 to $97.84.
"Oil could rise further from here. It's simple supply-and-demand fundamentals," said Kris Voorspools, energy analyst at Fortis in Brussels.
The White House said it would not open up the nation's emergency crude oil reserve to lower prices. Two members of the Organization of Petroleum Exporting Countries said the cartel was powerless to bring the market down from its lofty height.
Crude prices jumped 58 percent in 2007, the biggest annual gain this decade. Oil prices have nearly tripled since 2000 -- driven by rising demand in China and other developing countries, tight stockpiles and geopolitical turmoil.
Related readings:



 Oil edges toward $97 a barrel on Nigerian violence


 US seeks to exploit Iraqi oil, says Bin Laden


 Impact of high oil prices


 Oil futures down on OPEC news


Weakness in the dollar has added to gains across the commodity sector as investors supported the underlying value of products denominated in the softening currency.
Wednesday's price surge of more than 4 percent came after suspected militant attacks in Nigeria's main oil city, Port Harcourt, heightened concern over the potential for further disruptions in shipments from the world's eighth largest oil exporter.
"With the military and the militant warlords engaged in a violent tit-for-tat, the risk for oil disruptions in Nigeria remains higher than in the past few months," said Olivier Jakob of Petromatrix.
Frequent attacks by militant groups since February 2006 have driven thousands of foreign oil workers from the oil-rich Niger Delta and cut oil exports by about 20 percent.
Investors are also particularly sensitive to signs of further fund investment in commodities at the start of the year. The broad Reuters/Jefferies CRB Index of commodities rose nearly 17 percent in 2007 as the sector rebounded from a loss in 2006.
A further decline in US crude stockpiles -- already running at a three-year low -- was also expected. Weekly government data will be released Thursday, a day later than usual due to the New Year holiday.
Stocks of crude in the United States were expected to have fallen 2.2 million barrels last week, the seventh straight week of decline, as refiners processed more crude, according to a Reuters poll.
Distillate stocks, which include heating oil and diesel, were forecast to have declined by 500,000 barrels.