BAGDAD - It was something not seen in Baghdad since before the 2003 invasion -- people publicly welcoming a new year with singing, dancing and alcohol-fueled revelry. The ballrooms of two landmark hotels -- the Palestine and the Sheraton -- were full of people for the first New Year's Eve celebrations after four years of violence that has bloodied Iraq.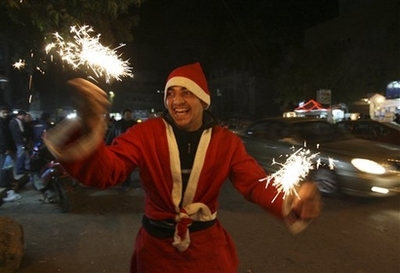 An Iraqi youth wears a Santa Claus suit while holding sparklers to celebrate the New Year in the Karradah neighborhood of central Baghdad, Iraq on Monday, Dec. 31, 2007. [Agencies]
"This place is now more secure," said Zahraa, 23, adorned with heavy black eyeliner and red lipstick, sitting with colleagues at the Palestine hotel, which was the target of huge car bombs in 2005. "Yes, we are still afraid, but we need to lighten our moods occasionally."
Like all those interviewed, she declined to give her last name, however. All cited concerns about their security, indicating worries still exist.
But after years of car bombings, mortar fire and suicide attacks, Iraq's capital was sufficiently calm to warrant the two high-end parties in the once-posh hotels.
About 200 guests, mostly men, danced to traditional Iraqi music at the large hall in the Palestine, decorated with blue, white and yellow chiffon. A woman in a glittery pink, spaghetti-strap dress sang for the crowd, which alternately hooted and danced.
At the door, a Western reporter was chastised for carrying in a can of beer: Alcohol was strictly forbidden at the parties in accordance with Islamic teachings.
But it was evident that some in the crowded ballrooms had ignored the rule. One man helped steady a friend, while other men in sport coats stood around chain-smoking cigarettes.
The singer, Fatina Wardi, also an actress for television shows and theater, said she was performing for the extra money -- $250 for each show. But she also sang partly to defy rising Islamic conservatism in Iraq, she said.
In recent years, Muslim extremists have killed hairdressers, barbers and alcohol sellers -- all perceived as symbols of a Western lifestyle -- even though Iraq's cities were once relatively tolerant, liberal places in comparison to other areas in the Middle East.
"I've lived through four wars," Wardi said after a show, slightly slurring her words. "One either lives or dies -- I choose to live and not fear death. If I die, I'll die for my country, as a martyr for freedom."
Her friends, all actresses and dancers dressed in brightly colored dresses with their hair teased out, nodded in agreement.
At the strike of midnight, the pops of gunfire spread across Baghdad, bullets streaking into the night sky -- a sight that has become relatively rare the last six months as violence fell more than 80 percent in the city, according to the US military.