NEW YORK - US stocks ended a tumultuous 2007 with a whimper Monday, retreating in the face of a new year fraught with worries about economic growth, a housing meltdown and tight credit.
The Dow Jones Industrial Average dropped 101.05 points (0.76 percent) to close at 13,264.82 and the tech-heavy Nasdaq composite lost 22.18 points (0.83 percent) at 2,652.28.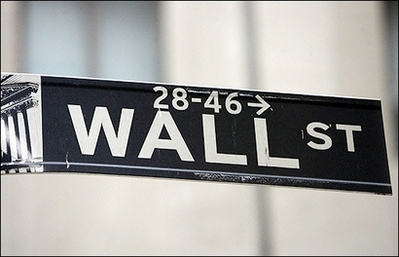 A Wall Street sign is seen near the New York Stock Exchange. US stocks ended a tumultuous 2007 with a whimper Monday, retreating in the face of a new year fraught with worries about economic growth, a housing meltdown and tight credit. [Agencies]
The broad-market Standard & Poor's 500 index shed 10.13 points (0.69 percent) at 1,468.36, according to final closing figures.
Trading was choppy and volume light as many traders took the day off ahead of the New Year's Day market holiday Tuesday, dealers said.
Stocks opened lower and extended their losses after the National Association of Realtors reported a modest 0.4 percent rise in existing home sales in November, which matched economists' consensus forecast.
It was the first increase after eight consecutive months of declines and signals a stabilization of the housing slump, the trade industry group said.
"Existing home sales are important from the perspective of the wealth impact on consumer spending," said Dick Green, an analyst at Briefing.com.
"If home sales and prices hold reasonably well, there also won't be much impact on consumer spending in 2008," he said.
Many analysts are concerned the housing depression will lead consumers to curb their spending, which accounts for roughly two-thirds of US economic activity.
The meager November improvement in previously owned home sales followed a Commerce Department's report Friday that showed November new homes sales fell by nine percent to a 12-year low.
"As we enter 2008, the mood remains focused on serious economic confusion," said Al Goldman, chief market strategist at AG Edwards.
Analysts agreed that Monday's session roughly sums up the Wall Street context of the latter half of 2007. "Obviously the past six months has been a declining market," said Peter Cardillo of Avalon Partners.
Financial shares recovered from another beating in the fallout from tightening credit that stems from a US housing slump begun in mid-2006.
According to the British newspaper the Observer, the new chief executive of Merrill Lynch was in talks with Chinese and Middle Eastern investors over the weekend that could lead to a capital-raising sale of a big stake in the US investment bank.
Merrill Lynch, which has taken massive write-downs related to the US mortgage crisis, rebounded from earlier losses to close 1.34 percent higher at 53.68 dollars.
Others in the sector also bounced back, including Citigroup, up 0.51 percent at 29.44; Lehman Brothers gaining 1.21 at 65.44; and Goldman Sachs, adding 1.47 at 215.05.
Delta Petroleum soared 21.53 percent to 18.85 dollars after announcing billionaire Kirk Kerkorian's Tracinda Corp. will buy a 35 percent stake.
Briefing.com's Green underscored the overall health of US stocks despite the market turmoil that began in August, initially sparked by a crisis in the subprime mortgage sector where home loans are given people with poor credit histories.
"It has been a turbulent and difficult year, but still one of good gains for investors," he said.
The Dow, which in the course of the past several months has crossed the psychological barriers of 13,000 points, then 14,000 points, hitting a record high 14,164.53 on October 9, gained 6.43 percent in the year. That compared with a 16.2 percent increase in 2006.
The Nasdaq, benefiting from investors' continued interest in technology, jumped 9.81 percent, lifted by stars such as Apple, up 136 percent, and Amazon, up 139 percent.
The S&P 500, which tracks 500 companies and is considered a better gauge of the market, added 3.52 percent.
Bond prices advanced. The yield on the 10-year US Treasury bond fell to 4.035 percent from 4.096 percent late Friday and that on the 30-year bond dropped to 4.459 percent from 4.514 percent. Bond yields and prices move in opposite directions.