SEOUL -- South Korea's National Election Commission announced on Wednesday that Lee Myung-bak of the conservative Grand National Party won the presidential elections.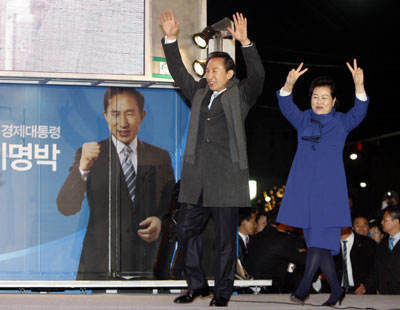 South Korean presidential candidate Lee Myung-Bak (L) of the opposition Grand National Party (GNP) and his wife Kim Yoon-ok celebrate with his supporters at the Cheonggye stream plaza in Seoul December 19, 2007. South Koreans on Wednesday elected Lee, a conservative former CEO vowing to back business and stand up to the North, as president of the world's 13th largest economy, TV exit polls showed. [Agencies]
"Thank you. Today's victory (in election) is neither my personal victory, nor my party's victory. It belongs to all the South Korean people," Lee said at a celebration with his supporters in downtown Seoul after the National Election Commission's announcement.
Earlier in the evening, South Korean President Roh Moo-hyun issued a message congratulating Lee Myung-bak on his election as South Korea's 17th president.
"We deliver words of congratulations to Lee Myung-bak. We also send words of consolation to the defeated candidates. We respect the will of the people displayed in the presidential election," said a message issued in the name of Roh's spokesperson, Cheon Ho-seon.
"The presidential office evaluates the fact that the presidential election was conducted fairly. The Participatory Government will faithfully try to hand over the administration to the next president. We will also try our best the last moment to take care of state affairs," said the message.
Lee will take over the position of president from current President Roh Moo-hyun on February 25, 2008.
Related Story: Ex-Hyundai CEO wins S. Korea election