SEOUL, South Korea - Lee Myung-bak won South Korea's presidential election Wednesday by a landslide as voters overlooked fraud allegations in hopes the former Hyundai CEO will revive the economy.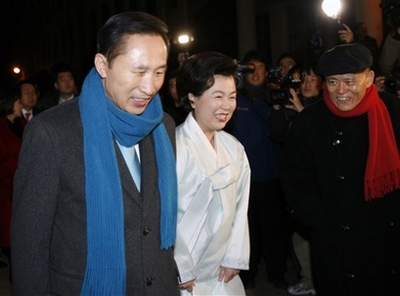 Presidential candidate Lee Myung-bak, left, of opposition Grand National Party, and his wife Kim Yoon-ok are accompanied by South Korean philosopher Kim Yong-ok, right, upon arrival at a polling station for their voting in Seoul, South Korea, Wednesday, Dec. 19, 2007. [Agencies]
Lee's two main rivals both conceded defeat after partial results showed him winning nearly double the votes of his closest competitor.
The National Election Commission said Lee of the conservative Grand National Party had 46.8 percent of the vote and liberal Chung Dong-young coming in a distant second at 27.6 percent, with 43.9 percent of the vote counted.
Lee, a former Seoul mayor who turned 66 on election day, has led the race for months. His victory ends a decade of liberal rule in the South, during which the country embarked on unprecedented reconciliation with rival North Korea that has led to restored trade and travel across the heavily armed frontier dividing the peninsula.
"I humbly accept the people's choice," Chung told reporters late Wednesday. "I hope (president)-elect Lee Myung-bak will do a good job for the country."
Candidate Lee Hoi-chang, who was trailing in third with 15.7 percent of the vote, congratulated Lee Myung-bak on his win.
"I hope he would uphold the people's yearning for a change in government and correct what the outgoing government has done wrong in the past," he told reporters.
Lee has pledged to take a more critical view of Seoul's engagement with rival North Korea and seek closer US ties. Efforts to end North Korea's nuclear weapons ambitions stand at a critical juncture, with the country set to disclose all its programs for eventual dismantlement by a year-end deadline.
Election turnout was a record low 62.9 percent of the 37 million eligible voters, the election commission said, a decline from 70.8 percent at the last poll in 2002. The election was the fifth since the direct presidential ballot was restored in 1987 following a wave of democratization that ended years of authoritarian military rule.