New York - China has agreed to pump US$5 billion into Morgan Stanley as the US investment bank reported a stunning fourth-quarter loss fueled by US$9.4 billion of losses in subprime mortgages and other assets.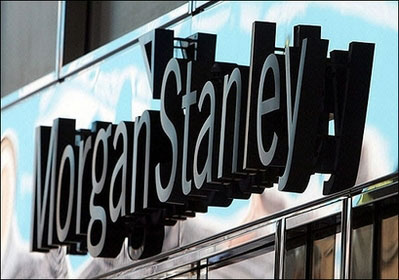 A sign hangs at Morgan Stanley Inc. headquarters in New York City. [Agencies]
China's investment, which could translate into as much as a 9.9 percent stake in Morgan Stanley, marks the latest capital infusion by a sovereign wealth fund into a major investment bank hurt by this year's credit crunch.
Morgan Stanley shares rose more than 4 percent as investors hoped the large write-downs and cash injection by China's foreign exchange fund may be signs of the beginning of the end of the subprime mess. But some skeptics said the deal was a sign of weakness.
Related readings:


 China fund to invest $5b in Morgan Stanley


 Forex investment company to invest in Blackstone


 Minister: CIC to make prudent investment


 CIC to be stable force in global financial market


 CIC to invest in all markets - chairman


 Bluestar seeks overseas expansion for growth
"This is a painful deal," Sanford Bernstein analyst Brad Hintz said in a research note. "When you leverage a brokerage firm up 31 times and you take a loss, you don't have any choice but to negotiate a nice deal to bring in equity capital."
Unlike his colleagues at Merrill Lynch and Citigroup, Morgan Stanley Chief Executive John Mack did not step down, but said he would forego his bonus this year. Mack, who pocketed US$37 million in salary, bonus, restricted stock and other compensation last year, last month ousted protege and co-President Zoe Cruz and shook up the firm's fixed income and risk management leadership.
"The results we announced today are embarrassing for me," Mack said in a conference call of the investment bank's first quarterly loss in its 72-year history.
Last month, Morgan Stanley said traders betting the bank's own capital had incurred US$3.7 billion in losses on US subprime mortgages. On Wednesday, the bank disclosed another US$5.7 billion in write-downs, reflecting further declines in the mortgage trades and losses on other debt.
To restore its capital, Morgan agreed to sell equity units that pay a 9 percent coupon. China will be a passive investor.
The deal reinforces Morgan Stanley's ties to China's vast, rapidly growing markets. More than a decade ago, Mack, then its president, helped forge the China International Capital Corp banking venture in which Morgan owns a passive 34 percent stake.
Earlier this month, Mack traveled to China to forge a new investment banking venture with Shanghai-based China Fortune Securities. The bank is pursuing licenses that will let it undertake banking and money management operations there.
Morgan Stanley is the latest big bank bailed out by sovereign funds recently.
Citigroup Inc agreed last month to sell a 4.9 percent stake to Abu Dhabi for US$7.5 billion, while UBS accepted a US$9.75 billion investment from Singapore's investment arm.
With the write-downs knocking down earnings by US$5.80 a share, Morgan Stanley posted a net loss from continuing operations of US$3.59 billion, or US$3.61 a share, in the quarter ended November 30.