ISLAMABAD - Pakistani President Pervez Musharraf has said that he would lift the state of emergency on December 15 and guarantee free and fair elections next month, local English newspaper The News reported Monday.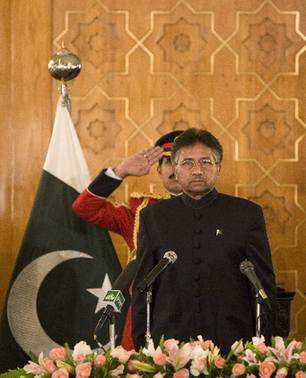 Pakistan's President Pervez Musharraf observes the national anthem after being sworn in at the President House in Islamabad Nov 29, 2007. Musharraf said that he would lift the state of emergency on Dec 15. [Agencies]
Confirming remarks by Pakistan's attorney general that the emergency would be lifted a day earlier than previously planned, Musharraf said, "the emergency will be finished on the 15th, I mean every word of it."
"I give commitments which I always follow and honor," he told the CNN's "Late Edition", which was taped on Saturday.
Asked if former prime ministers Benazir Bhutto and Nawaz Sharif would be permitted to run as candidates, Musharraf said that it was up to the country's election commission to decide.
"There is a legal process which will take place and let them follow it," he added.
When asked to comment on US President George W. Bush's fresh remarks that he would authorize the US troops to go into Pakistan to capture or kill al-Qaeda leader Osama bin Laden and top leadership in Pakistan, if there was actionable intelligence, Musharraf said, "in Pakistan it is the Pakistani forces that will act ... if we need any kind of assistance, the prerogative must remain with Pakistan."
He said that whatever intelligence the two countries get on terrorists, they jointly think of what kind of action was possible and whatever assistance Pakistan can get in this regard.