BELGRADE -- Kosovo ethnic Albanian leaders will declare independence from Serbia before May next year after intensive consultations with Western countries on steps leading to a declaration of independence and subsequent international recognition, a spokesman for the Kosovo negotiating team said on Monday.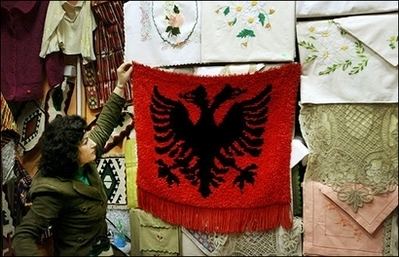 A Kosovo Albanian woman shows a hand-made Albanian flag in Kosovo's capital Pristina December 10, 2007. [Agencies]
"The first step is the inevitable declaration of independence, and the second one is formal recognition ... I assure you that independence will be declared much sooner than May," Skender Hyseni told reporters in the Kosovo capital Pristina, in response to the latest speculations regarding the possible date of declaration of independence.
"Dec. 10 marked the end of negotiations on Kosovo's status ... what follows are talks on the declaration of independence and international recognition," Hyseni said, adding that in the coming days Kosovo officials would be preparing for intense talks with Washington and Brussels.
Legally still part of Serbia, the Kosovo province of 2 million population has been run by the United Nations since 1999, when NATO bombing forced the evacuation of Serbian forces fighting insurgent ethnic Albanians.
The troika of the United States, European Union (EU) and Russian envoys had been given a December 10 deadline to complete the negotiations report, but they submitted a report to the United Nations on Friday saying neither side had given ground on sovereignty.
The Kosovo negotiating team has decided to wait for the December 19 session of the UN Security Council, after which it will decide on steps to be taken with regard to Kosovo's future status.
Hyseni said that a number of EU countries supported the settlement of the Kosovo status issue, but that Kosovo would not wait at any cost for the support of all 27 EU member-countries.
Kosovo President Fatmir Sejdiu has sent a letter to the UN Security Council, asking it to allow Kosovo representatives to present their views on the future of the province.
A Kosovo delegation plans to visit New York and hold talks with members of the UN Security Council and representatives of the most influential countries.