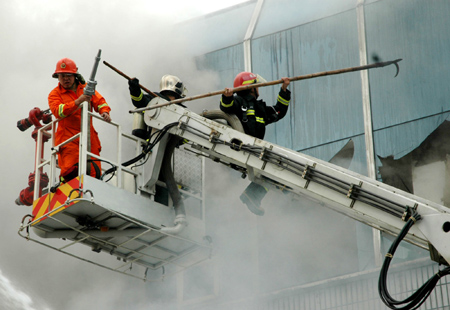 Firefighters extinguish a fire as heavy smoke billows from an apartment building in Wenzhou, East China's Zhejiang Province, December 12, 2007. At least 21 people were confirmed dead in the fire. [Xinhua]
BEIJING -- A total of 31 people were killed in two separate fires in China on Wednesday, and 11 others were wounded.
The fire at the Mingdian Western-style Restaurant in Zhangmutou town, Dongguan city in south China's Guangdong Province, killed 10 and injured nine, officials with the Dongguan government said.
An eyewitness said four foreign nationals were dining in the restaurant when the fire happened, and they were among the 11 killed, according to a Xinkuaibao report.  But this was not confirmed by local authorities.
The fire was reported at 5:07 pm and was put out in 15 minutes after spreading to more than 400 square meters, the officials said. Police are investigating the cause of the blaze.
An apartment building in east China's Zhejiang Province caught on fire in the morning to kill 21 people and severely injure two others.
Initial investigations found that sparks from an electrical wire in the Duoduoxian flower shop on the first floor of the 28-story Wenfu Mansion in  Wenzhou City set wrapping paper and plastic flower ablaze at about 8:20 a.m. and started the fire, government officials said late Wednesday night.
Smoke caused by the fire spread into a ballroom on the second floor where about 200 people were dancing, most of whom escaped but 19 people were poisoned and suffocated to death.
Among the nine people who were in the flower shop, seven escaped and two were killed.
The dead included 12 men and nine women, the officials said. Two people had to jump from high to escape the fire and got injured. One of them suffered from bone fracture.
The fire covered about 1,270 square meters and was put out at about 11:00 am, said a spokesman with the city's fire-fighting brigade.
More than 200 fire fighters and 33 fire engines were dispatched to extinguish the fire.
The bottom three floors of the building are used for commercial purposes and the rest are used for residential apartments, residents said.
Police are hunting for the owner of the flower shop who is hiding. Authorities decided to freeze his bank accounts for the compensation for the victims.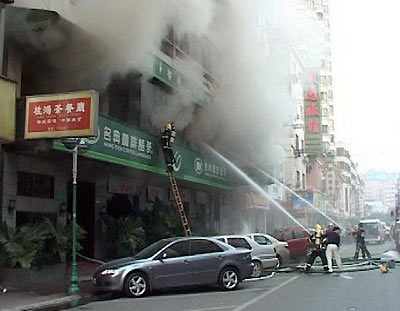 Firefighters try to extinguish a fire which broke out at the Mingdian Western-style Restaurant in Zhangmutou town, Dongguan city in south China's Guangdong Province on December 12, 2007. [Xinhua]