Videos: Interview with US health secretary  Q&A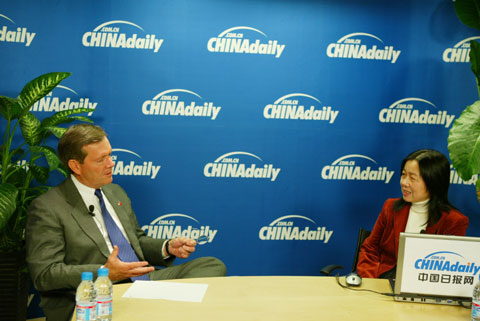 US Health and Human Services Secretary Mike Leavitt (L) is interviewed by Li Xing, chief of the International Department of China Daily at the chinadaily.com.cn office in Beijing December 10, 2007. Leavitt is in Beijing for the China-US Strategic Economic Dialogue. [chinadaily.com.cn]
China and the United States are expected to sign two binding agreements today to ensure the safety of food and drug exports, top officials from both countries said Monday.
One pact, to be signed between China's General Administration of Quality Supervision, Inspection and Quarantine (AQSIQ) and the US Department of Health and Human Services (HHS), deals with exports of food and animal feed; and the other, between China's State Food and Drug Administration and the HHS, will be on drugs and medical devices.
The agreements are to ensure that food and drugs China and the US export to each other meet import standards, HHS Secretary Mike Leavitt said at the American Chamber of Commerce in China Monday morning.
"Any country that desires to produce goods for American consumers needs to produce them in accordance with American standards... and we (US and China) should have common expectations of one another in this regard," he said.
Chinese animal feed, seafood and toys exported to the US have aroused safety concern this year, while some US exports, including pork and potato chips, have also been found unsafe according to Chinese standards.
Therefore, Leavitt said while meeting AQSIQ Minister Li Changjiang Monday afternoon, the two countries should collaborate in formulating standards to ensure products made in one country meet all the requirements of the other.
"We have different systems, but share the same goal, and should establish more communication channels to enhance contact and cooperation," Leavitt said.
Li said both agreements are products of long and fruitful dialogue.
"Product safety is a concern shared by the whole world, and we need intensified international cooperation, especially in sharing information and experiences," Li said.
AQSIQ Vice-Minister Wei Chuanzhong also disclosed Monday after meeting a delegation from the US Department of Agriculture that the two countries are discussing a third agreement on the safety of agricultural products.
"Basically, the agreement aims to improve our working relationship and cooperation on how to handle problems of meat, poultry and egg products," Ellen Terpstra, deputy under secretary for farm and foreign agricultural services, who headed the delegation, told China Daily.
"An important goal of the agreement is to ensure smooth trade flow for both sides," she said.
The two nations still have a few disagreements, but both Wei and Terpstra said they hope the agreement will be signed as soon as possible.
US Commerce Secretary Carlos Gutierrez Monday also pointed the direction toward product safety.
"As the next step, perhaps we can look at an agreement with the US National Oceanic Atmospheric Administration, which has a seafood inspection system. The system is voluntary but can be very helpful for your fisheries exports," he said while meeting Li.
He also suggested that cooperation be strengthened between the US National Institute for Standards and Technology and the Chinese National Institute for Metrology to jointly develop standards.
At the end of the meeting, the US delegates received Chinese toys as Christmas gifts. "It's a nice gift. It's a lot of fun," Gutierrez said while picking a doll that can speak, laugh and cry.