COLORADO - A 24-year-old Denver-area man was responsible for weekend shootings at both a Colorado evangelical Christian church and a missionary training center that killed four people, police said on Monday.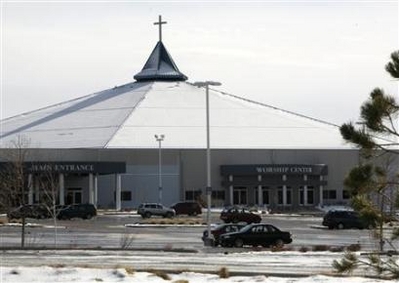 The New Life church in Colorado Springs, Colorado December 10, 2007. [Agencies]
Police said Matthew Murray had ties to the Christian missionary training center in Arvada, where he killed two young missionaries with a handgun shortly after midnight, and apparently bore a grudge there.
"He did express his discontent (when he left there)" Colorado Springs Police Sgt. Jeff Jensen told reporters. He declined to elaborate.
It was still not clear why Murray, according to police, then traveled 70 miles to the giant New Life church in Colorado Springs, where he killed two teenage sisters in the parking lot before being shot to death by a security guard.
But police said forensic and ballistics evidence tied Murray, a resident of the Denver suburb of Englewood, to both incidents. A spokesman for the Arvada missionary group said it had an office on the Colorado Springs campus of the New Life church.
Colorado Springs police said sisters Stephanie Works, 18, and Rachael Works, 16, were killed in the second shooting. Their father, David Works, 51, was hospitalized in fair but stable condition.
'I took him down'
Security guard Jean Assam, a volunteer, saved many lives at the church, New Life senior pastor Brady Boyd told a televised news conference on Monday. "She's a real hero," he said. There were about 7,000 people in the building when the shooting erupted.
"I heard shots fired. There was chaos. The shots were so loud, I thought he was inside. I saw him coming through the doors," Assam told reporters.
Assam said she then took cover, identified herself to the gunman and "I took him down." She credited God for her survival because of "the firepower he had compared to what I had."
Assam has a law enforcement background but had never fired on a suspect while working as a police officer.
The shootings came just four days after a 19-year-old man killed eight people and then himself with an assault rifle at a busy shopping mall in Omaha, Nebraska.
Police in the two Colorado cities were sharing information but there was no indication of the motive in either case.
Local media reported Arvada police helped execute a search warrant with Colorado Springs police in another suburb of Denver.
Related stories: 4 die in US church, mission attacks