ISLAMABAD -- Pakistani President General Pervez Musharraf began a round of farewell visits to various military headquarters Tuesday, one day ahead of the fixed date for him to resign military post.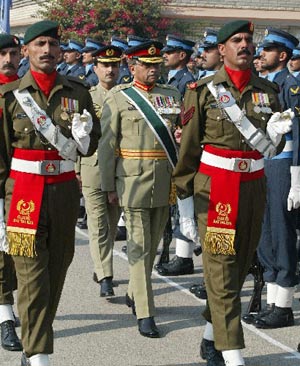 Pakistan's General Pervez Musharraf (C) reviews the guard of honor at the Joint Staff Headquarters in Rawalpindi Nov. 27, 2007. Musharraf began farewell visits to various military headquarters in Rawalpindi Tuesday ahead of expectedly doffing army uniform on Nov. 28.  [Agencies] More photos
The 64-year-old general, clad in military uniform, visited the Joint Staff Headquarters in the morning in the military nerve center Rawalpindi, 30 kilometers south of Islamabad, to meet with military leaders, including General Tariq Majid, chairman of the joint chiefs of staff committee.
The visits were "in line with the military traditions of paying farewell calls," the official Associated Press of Pakistan said in a news report.
Musharraf also visited the Naval Headquarters and the Air Headquarters and were presented guard of honor at each of the headquarters.
FROM GENERAL TO CIVILIAN PRESIDENCY
Musharraf, who had once said uniform was his "second skin," was due to resign his military post Wednesday, one day ahead of the fixed date for him to be sworn in for a five-year term as a civilian president.
Musharraf, in a move to push for a transition in Pakistan from military to civilian presidency, has pledged to shed his uniform before taking oath as a civilian president, that is, if he was re-elected for a second term.
Musharraf joined the army in 1964 at the age of 21 and fought bravely to rise through military ranks. He was appointed chief of army staff on October 7, 1998 and was somehow forced to stage a 1999 bloodless coup that displaced the then Prime Minister Nawaz Sharif.
Musharraf first became president in 2001.
He won with a majority in presidential polls on October 6, 2007, but his candidacy was challenged by other candidates filing petitions in the Supreme Court and the re-election was not confirmed until recently.
Musharraf declared a state of emergency across the country on November 3 and removed the chief justice of the Supreme Court, citing rising militancy in the northwest and interference of the judiciary with government affairs.
On November 22, petitions against his re-election were withdrawn or thrown out, thereby clearing the hurdle for him to be sworn in as president for a second term, which was expected to take place on November 29.
Before that Musharraf was due to give up his uniform and hand over the command of the armed forces to the 55-year-old Vice Chief of Army Staff General Ashfaq Pervez Kiyani, who will assume charge as the new army chief.