Muscatine, Iowa - Hillary Rodham Clinton will bring America "back to the future," husband Bill says, promoting his own legacy in public life almost as much as his wife's presidential campaign.
"I think she has proven in all these debates, and especially the last one, that she is the strongest, most reliable person that we could elect," the former US president told more than 400 potential voters at a YMCA gym. "And I say that as an admirer of the rest of the candidates. I like this field."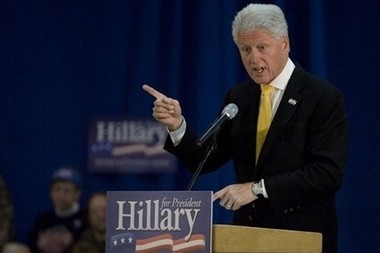 Former president Bill Clinton speaks at the Muscatine Community YMCA on behalf of his wife, Democratic presidential hopeful, Sen. Hillary Rodham Clinton, D-N.Y., in Muscatine, Iowa, November 27, 2007. [Agencies]
Clinton's visit marked the start of a battle of campaign surrogates -- Clinton vs. Winfrey, the former president stumping for his wife and media mogul Oprah Winfrey backing Sen. Clinton's chief rival, Barack Obama, in appearances scheduled for next week.
"Oprah vs. Bill! Now, there's a race," said Gail VanGundy, 59, an undecided voter who said the former president is a bigger draw for her than Winfrey.
"Both have star power," said Alfred Monroe, 76, as he awaited the former president's appearance in this eastern Iowa town.
Clinton himself said Winfrey ought to be for Obama because both hail from Chicago. He didn't mention that his wife is also from suburban Chicago. "I like Oprah Winfrey," he said. "We're friends."
Whether surrogates like Clinton and Winfrey sway voters is debatable, but operatives in both campaigns welcome their ability to draw crowds and attention in the closing days of a hotly contested race. An hour before Clinton was scheduled to arrive in Muscatine, more than 50 people lined up for seats.
Speaking for more than an hour, he discussed his wife's agenda and experience in exhaustive terms, sprinkling the remarks with asides about his presidency and his activities on the world stage since he left office in January 2001.
He seemed to rewrite history at one point, telling the crowd that he opposed the Iraq war "from the beginning." Clinton, like his wife, has been critical of the Iraq war in recent months, but at one time he gave President Bush the benefit of the doubt. "I supported the president when he asked for authority to stand up against weapons of mass destruction in Iraq," he said in May 2003.