WASHINGTON -- The public increasingly believes the US is making military progress in Iraq but still wants President Bush to remove American troops from the country as quickly as possible, a poll showed Tuesday.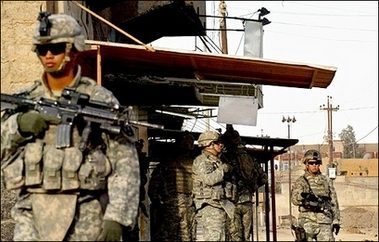 US troops patrol in Baghdad November 24, 2007.
People are evenly split over how well the military effort in Iraq is going, with 48 percent saying it is going well and the same number saying it isn't, according to a survey by the nonpartisan Pew Research Center. In February, shortly after Bush announced he would send additional troops to the country, only 30 percent said things were going well.
Stark partisan divisions remain, though even growing numbers of Democrats cite gains. While 16 percent of Democrats said in February that things were going well, that figure has grown to 33 percent -- less than half the 74 percent of Republicans who felt that way.
Overall, 43 percent said the US is making gains against the insurgents, up 13 percentage points from February. The percentage of people seeing progress reducing civilian casualties has more than doubled to 43 percent, while the number seeing results in preventing civil war is 32 percent, almost double the February level.
There have been smaller increases in the number of people citing progress in preventing terrorist bases, rebuilding Iraqi public works and establishing democracy.
Even so, 54 percent say they favor bringing the troops home as soon as possible, virtually the same number as in February.
The public remains split over whether the US will succeed or fail in Iraq, just as in February. A small majority feels the US is losing ground in getting Iraqi leaders to work together.
The poll involved telephone interviews with 1,399 adults from Nov. 20-26. It has a margin of sampling error of plus or minus 3 percentage points.