ISLAMABAD -- Pakistani President General Pervez Musharraf stepped down from his post of army chief on Wednesday and handed over the command to the vice chief of Army Staff.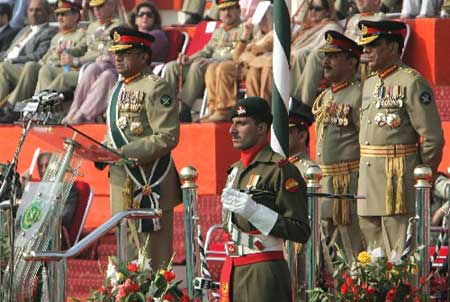 Pakistani new army chief General Ashfaq Kiyani (R) watches President General Pervez Musharraf deliver his speech during a change of command ceremony in Rawalpindi, Nov. 28, 2007. [Xinhua]
Musharraf, clad in uniform, inspected a guard of honor at a ceremony attended by military and political VIPs at the army general headquarters in Rawalpindi, a garrison city 30 km south of the capital Islamabad.
Delivering a speech, the 64-year-old General Musharraf said he felt sad to leave the army and that he was proud to have fought two wars while serving in the army in a career spanning 46 years.
"Leaving the army is like leaving family for me," he said.
Musharraf was born in 1943 and was admitted to the Pakistan Military Academy in 1961. He became an artillery officer in 1965 and was soon awarded a medal of bravery for fighting against India.
Musharraf overcame relatively humble roots to rise through the ranks, promoted to major general in 1991 and chief of army staff in 1998.
"The army is my passion," he said, adding "I love the army and thank the army for everything that the army has given me."
Musharraf came to power in a bloodless coup in 1999 and attained presidency in 2001, which was later sanctified in a 2002 referendum.
Re-elected in the Oct. 6 presidential poll with a majority and due to be sworn in for a five-year term on Nov. 29, Musharraf had pledged to shed his army uniform and take oath as a civilian president.
In a round of farewell visits starting Tuesday in line with military tradition, Musharraf visited the joint chiefs headquarters, the naval headquarters and the air headquarters in Rawalpindi and Islamabad.
Vice Chief of Army Staff General Ashfaq Pervez Kayani will takeover as the new army chief after Musharraf relinquishes the charge.