DHAKA - The death toll from cyclone which hit Bangladesh last Thursday night reached 3,447 at 11 am Tuesday, according to the Bangladesh Army disaster management wing.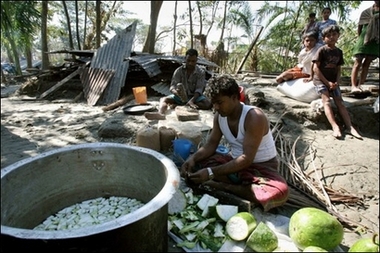 Volunteers prepare to cook food for Bangladeshi cyclone affected people in Chailtatoli village on the southern coastal area of Bangladesh. Urgently-needed supplies of food, water and medicine were nearing people in remote areas of Bangladesh where a devastating cyclone has left millions homeless and thousands dead. [Agencies]
The number of injured stood at 3,322 and the missing numbered 1, 063, private news agency bdnews24 reported quoting the army report.
Meanwhile, the death toll by the Food and Disaster Management Ministry stood at 2,819 till 1 pm Tuesday.
An official of the Ministry said, as the army rescue operation has reached more isolated areas and received more information, their figure over the death caused by the cyclone is higher.
The armed forces have reached 90 percent of the affected areas with rescue and relief mission till Monday, and the helicopters covered most of the remote places.
So far, the armed forces have reached 100 percent of affected sub-districts level and 70 percent of village level.
The terrible cyclone hit more than 20 out of the country's 64 districts, affecting over 3 million people of 900,000 families, leaving nearly 300,000 homeless.
The deadly cyclone Sidr was one of the fiercest cyclones that had hit the region of Bangladesh in the 131 years between 1876 and 2007.
Bangladesh government Monday made international request to assist the cyclone victims and post-cyclone rehabilitation.
So far, the donor countries and agencies have pledged emergency aid of US$140 million.