SINGAPORE: Premier Wen Jiabao and his Japanese counterpart Yasuo Fukuda agreed Tuesday to work together to further develop the "strategic relationship of mutual benefit" between the two countries.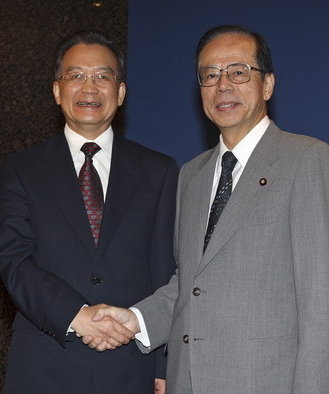 Chinese Premier Wen Jiabao (L) and Japanese Prime Minister Yasuo Fukuda shake hands before their trilateral meeting with South Korea on the sidelines of the 13th Association of South East Asian Nations (ASEAN) Summit in Singapore November 20, 2007. [Agencies]
The meeting between the two leaders - on the sidelines of the annual summits of the Association of the Southeast Asian Nations (ASEAN) in the city state - was the first since Fukuda took office in September.
The atmosphere at the meeting was "friendly", said Qin Gang, a Foreign Ministry spokesman.
"Premier Wen invited Prime Minister Fukuda to visit China," Qin told reporters after the closed-door meeting ended with the smiling leaders strolling together to a hotel restaurant for lunch. "The two sides need to discuss a specific date."
Fukuda told Wen that he hopes to visit China as early as possible, saying he will try to make the trip "within this year or early next year".
Calling the prime minister a "well-known Japanese statesman", Wen said Fukuda called him only four days after taking office, which indicates that he values relations between the two countries.
"China-Japan relations are at a significant stage of development and an important turning point," Wen said. "I hope we will make concerted efforts and grasp this opportunity to push forward the development of bilateral ties."
Sino-Japanese relations turned sour during Japanese leader Junichiro Koizumi's tenure from 2001 to 2006 when he repeatedly visited the Yasukuni Shrine that honors Japan's war criminals of World War II.
Relations began to thaw after Koizumi was replaced by Shinzo Abe, who did not visit the shrine while in office.
Abe visited China just weeks after taking office in September last year but he abruptly resigned two months ago amid money-related scandals in his cabinet.
Fukuda, son of late premier Takeo Fukuda - who signed a landmark peace-and-friendship treaty with China in 1978 - has long supported strong ties with China.
In April, Wen paid a three-day official visit to Japan, during which he reached consensus with Japanese leaders on forging a strategic, mutually beneficial relationship.
In the past year, Chinese and Japanese leaders resumed contacts and visits, and reached consensus on handling sensitive issues such as the Taiwan question and wartime history.
"The current situation has not come about easily and should be cherished," Wen said.
He also called for intensified defense exchanges and dialogue to enhance mutual trust in security
Fukuda said his country hopes to expand collaboration with China in business, defense, environmental protection, culture and education, as well as strengthen coordination in regional and international affairs.
They also agreed to accelerate negotiations on disputes over the exploration of the East China Sea to resolve the issue at an early date.
In senior working-level talks on the East China Sea in Tokyo last week, the two nations failed to reach a breakthrough, but agreed to negotiate further.
This year marks the 35th anniversary of the normalization of diplomatic ties between the two nations.
Bilateral trade volume reached $207.36 billion last year, a 200-fold increase over the $1.1 billion in 1972. Japan is China's third-largest trading partner, while China is Japan's second-largest trading partner.
Xinhua, agencies contributed to the story