BARGUNA, Bangladesh - The death toll from Thursday's cyclone in Bangladesh is now more than 3,100, and officials say that number could reach 10,000 once rescuers get to outlying islands.
Rescuers are struggling to reach thousands of survivors, and relief items have been slow to reach many. Survivors grieved and buried their loved ones Monday as they waited for aid to arrive.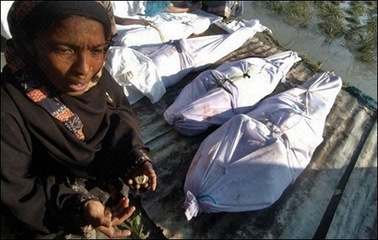 A Bangladeshi woman grieves alongside the bodies of her relatives at Ragersori in Moralgonj on the southern coastal area of Bangladesh. [Agencies] 
The death toll from the Thursday cyclone reached 3,113 after reports finally reached Dhaka from storm-ravaged areas which had been largely cut off because of washed-out roads and downed telephone lines, said Lt. Col. Main Ullah Chowdhury, a spokesman of the army coordinating the relief and rescue work.
In Galachipa, a fishing village along the coast in Patuakhali district, Dhalan Mridha and his family had ignored the high cyclone alert issued by authorities.
"Nothing is going to happen. That was our first thought and we went to bed. Just before midnight the winds came like hundreds of demons. Our small hut was swept away like a piece of paper, and we all ran for shelter," said Mridha, a 45-year-old farm worker, weeping.
On the way to a shelter, Mridha was separated from his wife, mother and two children. The next morning he found their bodies stuck in a battered bush along the coast.
The coast abounded with such grim tales following Tropical Cyclone Sidr -- the worst cyclone to hit Bangladesh in a decade. Many grieving families buried their loved ones in the same grave because no male member was available to dig them.
The Bangladesh Red Crescent Society, the Islamic equivalent of the Red Cross, warned the toll could hit 10,000 once rescuers reach outlying islands.
The society's chairman, Mohammad Abdur Rob, said the estimate came from the assessments of thousands of volunteers involved in rescue operations across the battered region.
Helicopters airlifted food to hungry survivors Monday while rescuers struggled to reach remote areas. The army helicopters carried mostly high-protein cookies supplied by the World Food Program, said Emamul Haque, a spokesman for the WFP office in Bangladesh's capital, Dhaka, which is coordinating international relief efforts.
International aid organizations promised initial packages of $25 million during a meeting with Bangladesh agencies Monday, Haque said.
But relief items such as tents, rice and water have been slow to reach many. Government officials defended the relief efforts and expressed confidence that authorities are up to the task.
"We have enough food and water," said Shahidul Islam, the top official in Bagerhat, a battered district near the town of Barguna. "We are going to overcome the problem."
UN Secretary-General Ban Ki-moon said in a statement that several million dollars were available from the UN's emergency response funds, depending on the need.
He expressed his "profound condolences to the people and government of Bangladesh for the many deaths and the destruction involved, and the full solidarity of the UN system at this time of crisis," the statement said.
The government said it has allocated $5.2 million in emergency aid for rebuilding houses. Many foreign governments and international groups have also pledged to help.
The Chinese government has decided to donate US$1 million of emergency assistance to the Bangladesh government.
The United States offered $2.1 million. An American military medical team is already in Bangladesh and two US naval ships, each carrying at least 20 helicopters, among tons of other supplies, will be made available if the Bangladesh government requests them, Secretary of State Condoleezza Rice said in a statement.
Other governments and organizations that pledged aid include the German government, which offered about $730,000, the European Union with $2.2 million, and the British government with $5 million. France pledged some $730,000, while the Philippines said it would send a medical team.
Every year, storms batter Bangladesh, a country of 150 million, often killing large numbers of people. The most deadly recent storm was a tornado that leveled 80 villages in northern Bangladesh in 1996, killing 621 people.
Only two people were killed in Bangladesh by the 2004 Indian Ocean tsunami was spawned off Indonesia's Sumatra island by a magnitude-9 earthquake, hitting a dozen countries and killing at least 216,858, according to government and aid agency figures considered the most reliable in each country.
Hurricane Katrina, the most destructive natural disaster in US history, killed 1,600 people across the Gulf Coast, destroyed or severely damaged more than 200,000 homes and made more than 800,000 people homeless overnight.