Tehran -- The presidents of Venezuela and Iran said Monday that they will defeat US imperialism together, noting that the fall of the dollar is a prelude to the end of Washington's global dominance.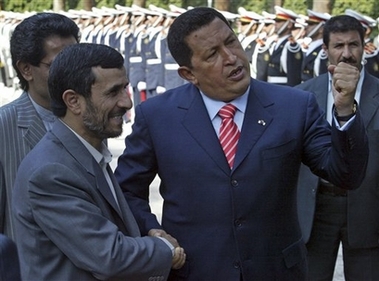 Venezuelan President Hugo Chavez (C) gestures, as he shakes hands with his Iranian counterpart Mahmoud Ahmadinejad, during an official welcoming ceremony for Chavez in Tehran, Iran, Monday, Nov. 19, 2007. [Agencies]
Hugo Chavez's visit to Mahmoud Ahmadinejad in Tehran followed a failed weekend attempt to push the Organization of Petroleum Exporting States away from trading in the slumping greenback.
Their proposal at an OPEC summit was overruled by other cartel members led by Saudi Arabia, a strong US ally. But the cartel agreed to have OPEC finance ministers discuss the idea, and the two allies' move showed their potential for stirring up problems for the US.
The alliance between Chavez and Ahmadinejad has blossomed with several exchanged visits -- Monday's was Chavez's fourth time in Tehran in two years -- a string of technical agreements were reached.
"Here are two brother countries, united like a single fist," Chavez said upon his arrival in Tehran, according to Venezuela's Bolivarian News Agency.
"God willing, with the fall of the dollar, the deviant US imperialism will fall as soon as possible, too," Chavez said after a two-hour closed meeting with Ahmadinejad, the Iranian state news agency IRNA reported.
As the dollar weakens, oil prices have soared toward $100 a barrel. Chavez said over the weekend at the OPEC meeting in Riyadh, Saudi Arabia, that prices would more than double to $200 if the US attacked Iran or Venezuela.
"The US empire is coming down," Chavez told Venezuelan TV, calling the European Union's euro a better option and saying Latin American nations were also considering a common currency.
The Venezuelan president is a fierce critic of US President Bush, and Iran's government is in a bitter standoff with Washington over Tehran's nuclear program. The US accuses Iran of seeking to develop nuclear weapons, a claim Tehran denies, and Iran has been hit with two rounds of UN sanctions for refusing to suspend uranium enrichment.
Ahmadinejad backed his "dear brother" Chavez in their joint fight with the Bush administration.
"We have common viewpoints and we will stand by each other until we capture the high peaks. God is with us and victory is awaiting us," Ahmadinejad was quoted as saying by IRNA. He said he and Chavez would stick together to defend their "nations and ideals to the end."
During the OPEC meeting, Iran and Venezuela proposed that the cartel begins pricing its oil in a basket of currencies, rather than just the dollar, and wanted the summit to specifically express concern over the dollar's slide in its final statement.
Saudi Arabia blocked those moves. Saudi Arabia's foreign minister cautioned that even talking publicly about the currency's decline could further hurt its value.
Chavez repeated his warnings that attacking Iran would further increase oil prices. "It's very important that they leave us in peace, the major oil-producing countries," he said.
"If it occurs to Bush to invade Iran, I'm sure the Iranians will resist, and they aren't going to allow them to take away their oil, just as we Venezuelans wouldn't allow it," he said.
In Tehran, the two presidents signed four memorandums of understanding Monday to create a joint bank, a fund, an oil industry technical training program and an industrial agreement, Iranian state television said. It said Chavez then left after an official farewell ceremony.
On Chavez's previous visit in July, the two leaders broke ground for construction of a jointly owned petrochemical complex in Iran, with 51 percent of it in Iranian ownership and 49 percent to be owned by Venezuela. The two nations also began construction of a second petrochemical complex in Venezuela, at a total combined cost of $1.4 billion.
Chavez and Ahmadinejad believe their petrochemical partnership will help Iran win markets in Latin America and Venezuela to gain access to Asia's energy market, especially India.
Since 2001, the two countries have signed more than 180 trade agreements, worth more than $20 billion in potential investment, according to official reports.
Iran has partnered with Venezuela on several industrial projects in the South American nation, including the production of cars, tractors and plastic goods.