NEW YORK -- Scientists have made ordinary human skin cells take on the chameleon-like powers of embryonic stem cells, a startling breakthrough that might someday deliver the medical payoffs of embryo cloning without the controversy.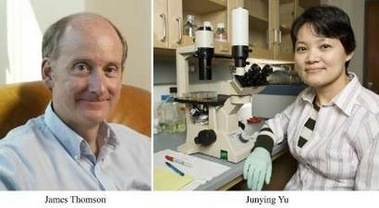 Researchers James Thomson (L) and Junying Yu with the University of Wisconsin-Madison are shown here in University of Wisconsin-Madison photographs. Yu is lead author of a paper describing a novel method of reprogramming adult stem cells to create cells that are indistinguishable from embryonic stem cells. Researchers reported on November 20, 2007. [Agencies]
Laboratory teams on two continents report success in a pair of landmark papers released Tuesday. It's a neck-and-neck finish to a race that made headlines five months ago, when scientists announced that the feat had been accomplished in mice.
The "direct reprogramming" technique avoids the swarm of ethical, political and practical obstacles that have stymied attempts to produce human stem cells by cloning embryos.
Scientists familiar with the work said scientific questions remain and that it's still important to pursue the cloning strategy, but that the new work is a major coup.
"This work represents a tremendous scientific milestone -- the biological equivalent of the Wright Brothers' first airplane," said Dr. Robert Lanza, chief science officer of Advanced Cell Technology, which has been trying to extract stem cells from cloned human embryos.
"It's a bit like learning how to turn lead into gold," said Lanza, while cautioning that the work is far from providing medical payoffs.
"It's a huge deal," agreed Rudolf Jaenisch, a prominent stem cell scientist at the Whitehead Institute in Cambridge, Mass. "You have the proof of principle that you can do it."
There is a catch. At this point, the technique requires disrupting the DNA of the skin cells, which creates the potential for developing cancer. So it would be unacceptable for the most touted use of embryonic cells: creating transplant tissue that in theory could be used to treat diseases like diabetes, Parkinson's, and spinal cord injury.
But the DNA disruption is just a byproduct of the technique, and experts said they believe it can be avoided.
The new work is being published online by two journals, Cell and Science. The Cell paper is from a team led by Dr. Shinya Yamanaka of Kyoto University; the Science paper is from a team led by Junying Yu, working in the lab of in stem-cell pioneer James Thomson of the University of Wisconsin-Madison.
Both reported creating cells that behaved like stem cells in a series of lab tests.
Thomson, 48, made headlines in 1998 when he announced that his team had isolated human embryonic stem cells.
Yamanaka gained scientific notice in 2006 by reporting that direct reprogramming in mice had produced cells resembling embryonic stem cells, although with significant differences. In June, his group and two others announced they'd created mouse cells that were virtually indistinguishable from stem cells.
For the new work, the two men chose different cell types from a tissue supplier. Yamanaka reprogrammed skin cells from the face of an unidentified 36-year-old woman, and Thomson's team worked with foreskin cells from a newborn. Thomson, who was working his way from embryonic to fetal to adult cells, said he's still analyzing his results with adult cells.
Both labs did basically the same thing. Each used viruses to ferry four genes into the skin cells. These particular genes were known to turn other genes on and off, but just how they produced cells that mimic embryonic stem cells is a mystery.
"People didn't know it would be this easy," Thomson said. "Thousands of labs in the United States can do this, basically tomorrow."