RAWALPINDI, Pakistan -- Pakistani President Gen. Pervez Musharraf said for the first time Wednesday that he expects to quit as chief of Pakistan's army by the end of November, heralding a return to civilian rule.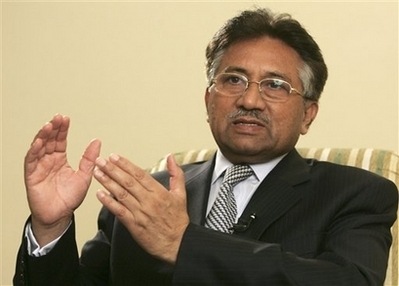 Pakistan's President Gen. Pervez Musharraf speaks during an interview with the Associated Press in Rawalpindi, Pakistan, Wednesday, Nov. 14, 2007. President Musharraf said that he expects to step down as army chief by the end of, November and begin a new presidential term as a civilian. [Agencies]
But he also rejected US pressure to quickly end a state of emergency and a demand from opposition leader Benazir Bhutto that he leave the political stage altogether.
Musharraf, wearing a dark business suit rather than his military uniform, said rising Islamic militancy required him to stay in control of the troubled nation but he left the door open for future cooperation with Bhutto if she wins January parliamentary elections.
He said his government "would prefer to engage with all the foreign concerns and tell them our difficulties so that they understand."
"But basically my concern is Pakistan," Musharraf said. "I take decisions in Pakistan's interest and I don't take ultimatums from anyone."
The US and other Western allies have been pushing for Musharraf to take off his uniform and end the emergency, warning it could seriously undermine the legitimacy of the elections that are meant to end eight years of direct military rule.
Washington wants Musharraf to share power with other moderate forces to try to rein in extremists allied with the Taliban and al-Qaida, who have seized control of swaths of territory near the Afghan border.
The Commonwealth of Britain and its former colonies have threatened to suspend Pakistan unless the emergency is lifted by November 22.
However, US President Bush continues to describe Musharraf as a trusted ally and US officials have indicated they won't cut generous aid to Pakistan. Deputy Secretary of State John Negroponte is due in Islamabad on Friday.
"All those who are blunt enough to tell me to my face what the reality is, all of them think, yes, it will lead the country to chaos if I do not handle the political environment now with me remaining as the president," Musharraf said Wednesday.
Musharraf was in an affable mood during the 50-minute interview at his army office south of the capital.
He began by making light of unfounded rumors last week that his fellow generals had arrested him.
Musharraf had originally planned to quit as army chief by Thursday, when his presidential mandate and the term of the current Parliament expire.
But he said he was forced to delay until a court ruling on his recent re-election. He said the exact timing would depend on the reconstituted Supreme Court but expected it to happen this month.
He said Bhutto was overplaying her popularity in Pakistan and thought it unlikely she could become prime minister for a third time by winning the elections, but left open the possibility of working with her if she did.
"We will see. I do function with everyone. I'm quite good at functioning with people. It depends on her if she wants to be on a confrontational course or a conciliatory one," he said.
"Emergency is not meant to rig elections. Emergency is in fact meant to make sure that elections are held in a peaceful manner," he said.
He accused the opposition of wanting "agitation."
"They want to disturb law and order and they want to undermine governance," he said.