Pakistani President Pervez Musharraf imposed a state of emergency in a bid to end an eight-month crisis over his rule stoked by challenges from a hostile judiciary, Islamist militants and political rivals. Musharraf said he decided to act Saturday in response to a rise in extremism and what he called the paralysis of government by judicial interference.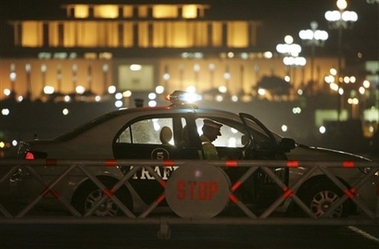 Police block roads leading to the administrative center of the capital Islamabad, Pakistan, Saturday, Nov. 3, 2007. President Gen. Pervez Musharraf declared a state of emergency in Pakistan on Saturday ahead of a crucial Supreme Court decision on whether to overturn his recent election win and amid rising Islamic militant violence. [Agencies]
"I fear that if timely action is not taken, then God forbid there is a threat to Pakistan's sovereignty," he said in a midnight televised address, after purging the Supreme Court and rounding up lawyers opposed to him.
"I cannot allow this country to commit suicide."
There had been increasing speculation that Musharraf, who seized power in a 1999 bloodless coup, might declare an emergency rather than run the risk the Supreme Court would rule against his re-election as president last month.
The United States, a staunch Musharraf ally, called the measure "very disappointing."
In the capital Islamabad, armored personnel carriers and military trucks patrolled the streets while roadblocks with metal barriers were set up on the main thoroughfares after Musharraf declared the emergency and suspended the constitution.
Pakistan's internal security has deteriorated sharply in recent months with a wave of suicide attacks, including an assassination attempt on former Prime Minister Benazir Bhutto last month that killed 139 people.
Bhutto flew back to Pakistan on Saturday from a brief visit to Dubai and accused Musharraf of imposing "mini-martial law".
Supreme Court Chief Justice Iftikhar Chaudhry, whose earlier suspension in March marked the beginning of a slide in Musharraf's popularity, was sacked. The court had said on Friday it would reconvene on Monday and decide quickly on whether Musharraf could remain president.
"This action is very disappointing," White House National Security Council spokesman Gordon Johndroe said, calling on Musharraf to hold parliamentary elections in January as planned.
However, Pentagon Press Secretary Geoff Morrell told reporters the emergency had no immediate impact on U.S. military cooperation. "At this point the declaration does not impact our military support of Pakistan's efforts in the war on terror.
"Musharraf banned the media from publishing anything that defamed, ridiculed or brought himself, the armed forces or government into disrepute.
He also stopped media from carrying statements from Islamist militants or their pictures, the official state news agency, the Associated Press of Pakistan (APP) reported.