BAGHDAD - A Sunni schoolteacher was hijacked as he drove to visit his sister in a predominantly Shiite area of Baghdad on Thursday. His body was found an hour later with three gunshots to his eyes.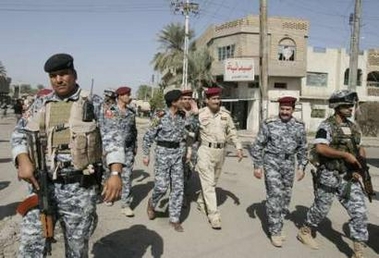 Iraqi police officers walk in Baghdad's Sunni district of al-Khadra October 25, 2007. [Agencies] 
Iraqi police blamed Shiite gang members for the killing — a grim reminder that sectarian hatreds and crimes persist regardless of declining violence in the capital.
Ahmed al-Janabi, a 45-year-old father of three, was stopped at a southwest Baghdad intersection by gunmen in two cars. They drove him away in his own car after inspecting his national ID and food ration card. His name doomed him: the al-Janabi tribe is mainly Sunni.
Police found his body in the car in a nearby neighborhood, with the gunshot wounds to his eyes, according to an officer at the hospital where police delivered the body.
The officer, who spoke on condition of anonymity because he feared becoming a target himself, said the attackers were Shiite militia members.
Al-Janabi's sister was married to a Shiite man, police said.
Northeast of the capital, women in black and other relatives gathered at another morgue to claim the bodies of eight men found dumped in the city of Baqouba. Two were Shiite brothers who had been abducted at a fake checkpoint near the city two days ago, police said.
Such sectarian killings usually blamed on so-called death squads run by Shiite militias have been a daily occurrence in Iraq since a February 2006 bombing of a Shiite shrine north of Baghdad sparked a wave of retaliatory violence. The shrine attack was believed to have been the work of al-Qaida in Iraq — Sunni extremists.
The number of sectarian killings has fallen dramatically since a joint US-Iraqi security crackdown began in Baghdad in February. Killings declined further beginning in August, when radical Shiite cleric Muqtada al-Sadr ordered his Mahdi Army militia fighters to cease attacks for up to six months.