MALIBU, Calif. -- More than a half-dozen wildfires driven by powerful Santa Ana winds spread across Southern California on Sunday, killing one person near San Diego and destroying several homes and a church in celebrity-laden Malibu.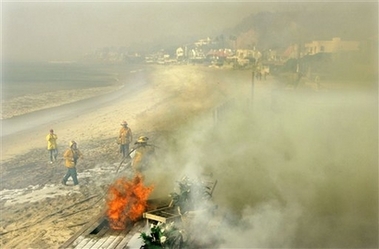 Firefighters extinguish flames on a beach home where a wildfire driven by powerful Santa Ana winds threatened a university and forced the evacuation of hundreds of homes, Sunday, Oct. 21, 2007, in Malibu, Calif. [Agencies]
No details were immediately available about the death in San Diego County, but four firefighters and four other people were injured and taken to hospitals, said Roxanne Provaznik, a spokeswoman for the California Department of Forestry.
The fire was among at least eight blazes stretching from north of Los Angeles to San Diego, as hot weather and strong winds marked the height of the traditional wildfire season.
The fire responsible for the death and eight injuries burned about 2,500 acres near a highway. A second charred about 3,000 acres in northern San Diego County and was threatening homes near Witch Creek, Provaznik said.
Meanwhile, in Malibu, about 500 firefighters worked to protect about 200 homes in several upscale communities nestled in the hills, officials said.
The blaze, which started in Malibu Canyon, had charred at least 1,000 acres and destroyed a church and several homes, one of them a landmark castle. No residents or firefighters were injured, Los Angeles County Fire Chief P. Michael Freeman said.
The winds carried embers across the Pacific Coast Highway, closing the popular road and setting fire to cars and trees in the parking lot of a shopping center where a supermarket, drug store and other shops were damaged.
TV footage showed several buildings in flames in the area, including clusters of beach-side homes.
"This fire is zero percent contained, which means we're at the mercy of the wind," acting Malibu Mayor Pamela Conley Ulich said.
In all, three homes and two commercial buildings had been confirmed lost throughout the Malibu area, Freeman said. Nine more homes were damaged, he said.
The fire is expected to burn for another two to three days, he said. Until the blaze is extinguished, "there will literally be thousands of homes that will be threatened at one time or another," he said.