KIEV, Ukraine - US Defense Secretary Robert Gates said Sunday it appears Turkey's military is not on the verge of invading northern Iraq in pursuit of Kurdish rebels responsible for a deadly attack on Turkish soldiers.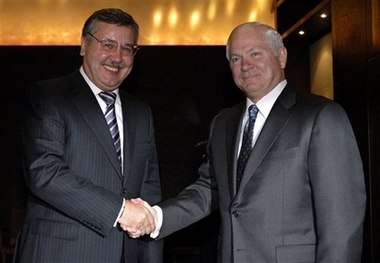 US Defense Secretary Robert Gates, right, meets his Ukrainian counterpart Anatoliy Hrytsenko in Kiev, Ukraine, Sunday, Oct. 21 2007. Gates came to Kiev to attend meetings of the Southeast European Defense Ministers, a 12-nation group created in 1996, at Washington's initiative, to promote security cooperation in the volatile Balkans and to facilitate cooperation with NATO, the US-led alliance that is an irritant to the Russians.[AP] 
Gates told reporters that in a meeting with Turkish Defense Minister Vecdi Gonul, he advised against launching a major cross-border incursion despite the continuing provocations.
"I'm heartened that he seems to be implying a reluctance on their part to act unilaterally, and I think that's a good thing," Gates said. "I didn't have the impression that anything was imminent."
On the Turkish-Iraq border, rebels blew up a bridge, killing 12 soldiers Sunday morning. The attack increased pressure on the Turkish government to strike guerrilla camps inside Iraq.
Iraq's president, Jalal Talabani, a Kurd, ordered Kurdish guerrillas to lay down their weapons or leave.
In a separate session with reporters after his 30-minute meeting with Gates, Vecdi said he stressed his country's problem with the Kurdistan Workers Party, or PKK. Both Turkey and the United States consider the PKK a terrorist organization.
The White House said "these attacks are unacceptable and must stop now." President Bush's national security spokesman, Gordon Johndroe, said such attacks from inside Iraq "need to be dealt with swiftly by the Iraqi government and Kurdish regional authorities."
"The United States, Turkey and Iraq will continue to stand together to defeat the PKK terrorists," Johndroe added.
Vecdi said his government expects the United States to do something to stop the rebel attacks. "Our boys are dying," he said.
"I explained the public opinion suffers so much," Vecdi said. He said this was reflected in the Turkish parliament's willingness to pass a motion authorizing the military to start an offensive into northern Iraq.
Vecdi said the military was planning retaliatory action but "not urgently." He noted that Turkey's prime minister is to meet with President Bush on November 5. But when asked whether this meant a major Turkish offensive was unlikely before that meeting, Vecdi said he was not certain.
Gates stressed the US position that a major Turkish incursion now would be counterproductive.
"I told him that restraint should not be confused with weakness," Gates said. "I thought that a major cross-border operation would be contrary to Turkish interests as well as our own and that of Iraq. I told him we should work together on this, that we were very mindful of the PKK terrorists."
The key, Gates said, is getting better information about the location and movement of PKK militants.
"The first and foremost challenge we face - as is so often the case with terrorism - is actionable intelligence," Gates said. That is information upon which quick and effective military action can be taken.
"I told him that lacking actionable intelligence, for them to send a large force across the border without any specific targets was likely to lead to a lot of collateral damage," Gates said, referring to civilian casualties.
Gates also told his Turkish counterpart that a major incursion into northern Iraq would hurt the Bush administration's efforts to stave off a positive vote in Congress on a resolution that would declare the World War I-era killings of Armenians a genocide. Armenian advocates contend the Armenians died in an organized genocide. The Turks say the Armenians were victims of widespread chaos and governmental breakdown as the 600-year-old Ottoman Empire collapsed in the years before Turkey was born in 1923.
Senior military officials in Washington have said in recent days that the PKK problem is a secondary priority at a stage in the Iraq war where US troops are preoccupied with the insurgents and terrorists who are seeking to destroy the US-backed Baghdad government.
In his remarks to reporters, Vecdi said he told Gates that Turkey expects the US to do more to constrain the PKK in Iraq, although he would not spell that out in detail.
"We'd like to have something tangible" from the Americans, he said. "We expect this. Any kind of tangible actions."
Asked what Turkey's military leaders were preparing for, Gonul replied: "They are planning to cross (the) border."