LONDON - British and Norwegian jets intercepted Russian military aircraft Friday after they breached NATO airspace close to the U.K. and Finland, defense officials said.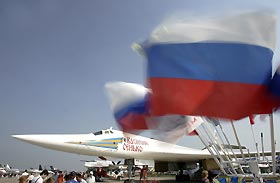 A Tupolev TU-160 strategic bomber is seen at the MAKS-2007 international air show in Zhukovsky outside Moscow, August 21, 2007. [Reuters]
Finland's Prime Minister Matti Vanhanen demanded an explanation from Moscow over the violation of Finnish airspace, the latest in a spate of recent incursions.
Russia said it had set up a commission to investigate the Finnish claims, but an official insisted the aircraft had flown over neutral territory.
Two British "Tornado" F3 jets intercepted two Russian long-range bombers, Britain's defense ministry said, without revealing precisely where the incident took place.
Two Tu-160 "Blackjack" bombers were initially intercepted by Norwegian F16s before they entered NATO airspace patrolled by Britain, defense officials said.
British jets shadowed the Russian bombers until they altered course, a defense ministry spokesman in London said.
In Finland, authorities said an Ilyushin-76 transporter plane flew about 4.5 kilometers (3 miles) into Finnish airspace for three minutes.
"These kinds of (violations) must not happen, that's our clear message here," Vanhanen said. "And when they do happen, then they need to be sorted out between the countries in question. That has to be done this time, too."
An investigation has been launched by Finland's Frontier Guard, the country's defense ministry said.
Interception of Russian warplanes in NATO patrolled-airspace has become increasingly common since the Kremlin last month ordered strategic bombers to carry out long-range missions for the first time since the breakup of the Soviet Union.
Alexander Drobyshevsky, an aide to the Air Force commander, told the Interfax news agency, Moscow was investigating Finland's claims.
"The air force command has put together a commission to examine objective flight data for this plane and to check how the flight had been prepared and how it was conducted," Drobyshevsky was quoted as saying.
But the ITAR-Tass news agency quoted Drobyshevsky as saying Russian planes had "flown over neutral waters without approaching air borders of any foreign nation."
International airspace along the southern Finnish coast is narrow, and officials had expected violations, military officials in Finland said.