WASHINGTON -- A B-52 bomber was mistakenly armed with six nuclear warheads and flown for more than three hours across several states last week, prompting an Air Force investigation and the firing of one commander, Pentagon officials said Wednesday.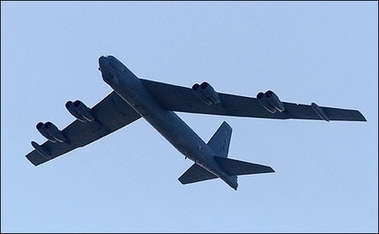 A US Air Force B-52 bomber seen here in Melbourne in this 2005 file photo. [AFP]
The mistake was so serious that President Bush and Defense Secretary Robert Gates were quickly informed and Gates has asked for daily briefings on the Air Force inquiry, said Defense Department press secretary Geoff Morrell.
He said Gates was assured that "the munitions were part of a routine transfer between the two bases and at all times they were in the custody and control of Air Force personnel and at no time was the public in danger."
Rep. Ike Skelton, chairman of the House Armed Services Committee, called the mishandling of the weapons "deeply disturbing" and said the committee would press the military for details. Rep. Edward J. Markey, a senior member of the Homeland Security Committee, said it was "absolutely inexcusable."
"Nothing like this has ever been reported before and we have been assured for decades that it was impossible," said Markey, D-Mass., co-chair of the House task force on nonproliferation.
The plane was carrying advanced cruise missiles from Minot Air Force Base, N.D., to Barksdale Air Force Base, La., on August 30, said the officials, who spoke on condition of anonymity because of a Defense Department policy not to confirm information on nuclear weapons.
The missiles, which are being decommissioned, were mounted onto pylons on the bomber's wings and it is unclear why the warheads had not been removed beforehand.
According to the officials, the weapons are designed with multiple safety features that ensure the warheads don't accidentally detonate.
Arming the weapons requires a number of stringent protocols and authentication codes that must be followed for detonation. And they are designed to withstand a significant impact, including an aircraft crash, without detonating.
The Air Combat Command has ordered a command-wide stand down on September 14 to review procedures, officials said. They said there was minimal risk to crews and the public because of safety features designed into the munitions.
In addition to the munitions squadron commander who was relieved of his duties, crews involved with the mistaken load - including ground crew workers - have been temporarily decertified for handling munitions, one official said.
The investigation is expected to take several weeks.