MODENA, Italy - Admirers massed by the hundreds in Modena's main piazza Thursday night to pay their final respects to Luciano Pavarotti, the tenor cherished by many as "the last, great voice" of Italian opera.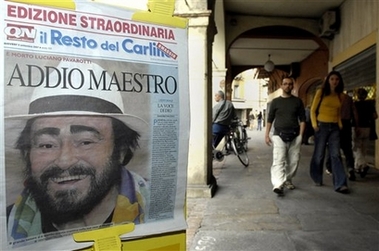 A picture of Luciano Pavarotti is printed on the frontpage of an Italian daily newspaper, on display at a news stand in Modena, northern Italy, Thursday, Sept. 6, 2007. [AP]
The crowd applauded as pallbearers carried the white casket into the cathdral, where a funeral Saturday will draw dignitaries from opera, politics and culture. The tenor died early Thursday in his hometown at age 71 after a yearlong battle with pancreatic cancer.
While Pavarotti moved the world with a wonderous voice, his legacy went beyond the opera house. The tenor collaborated with classical singers and pop icons alike to bring opera to the masses, rescuing the art from highbrow obscurity in the process.
In many ways, Pavarotti fulfilled the public's imagination of what an opera star should be. He often wore a colorful scarf and a hat, be it a fedora or a beret, and while he didn't always have a beard, it was hard to imagine him without it. His heft - as well as a restaurant on his property in Modena - underlined his gourmet appetite.
But above all, his crystal clear voice, prized for its diction, made him the most celebrated tenor since Caruso. "Pavarotti was the last great Italian voice able to move the world," said Bruno Cagli, president of the Santa Cecilia National Academy in Rome.
On the Piazza Grande, hundreds of people gathered for the first evening of public viewing. Police on horseback stood at attention as mourners shuffled up the steps into the cathedral to view Pavarotti, dressed in his trademark white tie and tails, a white handkerchief and white rosary clutched in his hands.
His wife, Nicoletta Mantovani, stood off to the side of the casket, chatting calmly with well-wishers.
The atmosphere wasn't sad or tearful but warm, as Modena residents celebrated their native son, many bringing their children to see what they said was an unforgettable moment for the city and world.
Simone Sarrau, 32, waited in line until nearly midnight to pay his respects.
"He's a symbol. He's a symbol of Modena, a symbol of Italy, he's international," Sarrau said. "I think this demonstration of affection is justified, and it's not just Modena its in the whole world. He's a one-of-a-kind. There's only him, and there will always only be him."
Mayor Giorgia Pighi said the singer had been a beacon for the city.
"Thanks to Luciano Pavarotti, the name of Modena has gone around the world as the name of a city much bigger than it actually is," Pighi told Associated Press Television News before the casket arrived.
The viewing was scheduled to end at midnight and then resume Friday at 6 a.m. and last, but for a few hours of closure overnight, until shortly before the funeral.