TOKYO - After reading a book this year about serious flaws in Japan's pension system, retired deliveryman Yoshikazu Hirano thought he'd check his own records just to be safe. He's glad he did: The 74-year-old discovered the government had shortchanged him by 460,000 yen ($3,770) in benefits he accrued while driving a truck for three years in the 1950s and 60s.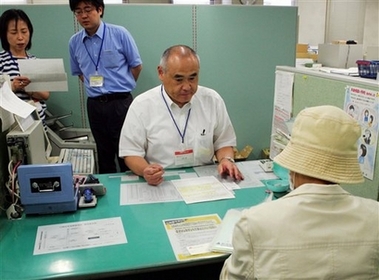 An unidentified pensioner, right, talks with consultant Kiyoshi Kawaguchi at the pension provision department relating to pension adjustment at a Social Insurance Agency's office in Kawasaki, west of Tokyo, Friday, Aug. 24, 2007. [AP] 
Hirano wasn't alone. Shortly afterward, the government confessed to losing track of pension records linked to an astounding 64 million claims - igniting a scandal that has punished the ruling party at the polls and eroded confidence in the ability of the world's second largest economy to support its growing legions of elderly.
Hirano, who is single and lives outside Tokyo, felt defrauded. "Had I not asked, I would have never gotten the money back," he said.
The pension mess, fully disclosed in May, has landed on one of the world's fastest-aging societies: 21 percent of its 127 million inhabitants are 65 or older and some 25 million retirees are collecting pensions, rising to 35 million by 2040.
People have flooded pension offices and 24-hour call centers seeking to check their records, and titles such as "Recover your pension!" fill bookstores and newsstands.
The confusion has hit Prime Minister Shinzo Abe. The outrage contributed to a plunge in his popularity and forced him to delay an upper house election for a week - to no avail, since his ruling party was trounced at the polls anyway, though he remains in office.
An interim government report released in July alleged widespread incompetence at the Social Insurance Agency: records kept in yellowing files instead of on computers, evidence of possible embezzlement of funds, and rampant clerical mistakes.
"The organization had little sense of compliance," said the report, which blamed the mess on faulty governance, low morale, lack of professionalism and ignorance of "the duty to protect the people's rights."
The agency was established a decade ago to unify three separate pension organizations - one for self-employed or non-workers, another for company employees, and the third for public servants. With 70 million members and $1.3 trillion in reserves, it is one of the world's largest.
The panel found internal agency documents indicating embezzlement of pension money by employees. But the fund's flaws were largely clerical; it failed to properly match some 50 million claim records with the correct individuals, and more than 14 million records aren't computerized, meaning they can't be readily retrieved when claims are submitted.