Tokyo - Japan's ruling party scrambled on Thursday to find a new leader and avoid a policy vacuum after Prime Minister Shinzo Abe's shock resignation the previous day, just as parliamentary debate was set to begin.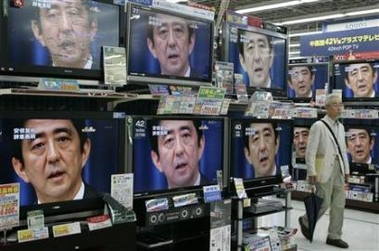 A man passes television monitors displaying a live broadcast of Japanese Prime Minister Shinzo Abe announcing his resignation in Tokyo, September 12, 2007. [Agencies]
Abe, who took office a year ago pledging to raise Japan's global security profile and rewrite its pacifist constitution, said he was quitting in the hope that a new leader could resolve a deadlock over a naval mission supporting US-led operations in Afghanistan.
His decision sparked a barrage of criticism amid concern that the political confusion would stall vital decisions on economic policies such as tax and fiscal reform and do little to end the stand-off with opposition parties, which won control of parliament's upper house in a July election.
"The timing is so bad that it is difficult not to criticize the prime minister as irresponsible," the daily Yomiuri Shimbun said in an editorial. "There will now be a political vacuum until a new prime minister is elected."
Special coverage:
Related readings:
Abe announces his resignation

Abe 'played active role' in ties

Abe calls it quits amid political row
Senior officials said health problems were a factor in Abe's decision. His aides were not available to comment on speculation that a soon-to-be-published tabloid magazine article on suspicions he had evaded taxes had prompted his departure.
"I may be called irresponsible. But I judged that it was best for the nation and for the people that I remove myself," Abe said in his email magazine published on Thursday.
The ruling Liberal Democratic Party (LDP) was likely to approve later on Thursday a plan to choose Abe's successor on September 19 or September 25, Japanese media said.
Abe will stay as caretaker until a successor is picked.
LDP Secretary-General Taro Aso, a former foreign minister under Abe who shares his hawkish views on security, is seen as a frontrunner, and was set to announce his candidacy on Thursday, the Mainichi Shimbun said.
But his closeness to Abe and a record of gaffes leaves doubts whether Aso's victory is assured, analysts said.
Contenders' List
Other names floated include former finance minister Sadakazu Tanigaki, former chief cabinet secretary Yasuo Fukuda, and current Finance Minister Fukushiro Nukaga, as well as party heavyweight Taku Yamasaki.
Some lawmakers petitioned for the return of Abe's maverick predecessor, Junichiro Koizumi, to return, but media said Koizumi had already turned down the request.
White House spokesman Tony Snow said US President George W. Bush had "appreciated the working relationship" with Abe, and said Washington was ready to work closely with his successor.
While the opposition took control of parliament's upper house in the July election, the LDP and its junior partner have a large majority in the lower house, which picks the prime minister.
Some LDP politicians and local chapters, worried the party could not win the next general election with Abe in charge, had pushed him to step down.
No election for the lower house need be held until 2009, but some analysts say parliamentary deadlock resulting from the opposition's grip on the upper house could trigger one sooner.
"We must call on the new prime minister to hold an immediate general election," the Mainichi Shimbun daily said in an editorial. "That would be the most constructive way of reflecting the public's will amid political confusion."
The 52-year-old Abe, Japan's youngest prime minister since the end of World War Two, reshuffled his cabinet only last month to win back public approval, but a poll this week showed support was stuck below 30 percent.
Abe had indicated that he would step down if he failed to extend the Japanese naval mission supporting US-led operations in Afghanistan, but the timing of his move was unexpected.
The main opposition Democratic Party was quick to reiterate its stance against the mission, enabling legislation for which expires on November 1.
Abe took office last September with approval ratings of around 60 percent, but his support had dwindled due to government mishandling of pension records and a series of scandals that cost him five cabinet ministers, including one who committed suicide.
Abe treated for exhaustion
Abe was treated at a hospital for exhaustion Thursday, a day after he announced he would quit.
Results of a medical examination will determine whether Shinzo Abe, 52, will remain in the hospital, said Cabinet Secretary Kaoru Yosano. National broadcaster NHK reported later that Abe had been hospitalized following the examination, but officials at the prime minister's office said they could not immediately confirm the report.
"His doctor determined that his fatigue level has reached its peak, so I think that the doctor concluded that he needed to be examined at a well-equipped hospital," Yosano said.
Yosano had said medical problems contributed to Abe's decision. He said Abe had been receiving regular checkups from his personal doctor since returning from a regional meeting in Australia earlier this week, but refused to reveal further details.