MOSCOW - Russian President Vladimir Putin chose a little-known government official to become Russia's new prime minister Wednesday, a surprise move that set off fevered speculation over whether loyal technocrat Viktor Zubkov was being groomed to replace Putin next spring.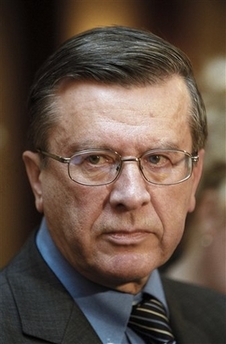 Viktor Zubkov, head of the Federal Financial Monitoring Service, seen in Moscow, in this Dec. 9, 2004 file photo. President Vladimir Putin nominated Viktor Zubkov who oversees the fight against money laundering to become the new prime minister, in a surprise move that will stoke speculation as to who Putin might tap to succeed him after next year's presidential elections. [AP]
The move came a few hours after Putin dissolved the Cabinet of his long-serving prime minister, Mikhail Fradkov, saying he needed to appoint a government better suited to the election campaign and to "prepare the country" for life after the elections.
The nomination of Zubkov, who has overseen investigations into suspicious financial transactions, caught much of the political elite off guard, which appeared to be Putin's intention.
Most observers said they did not see Zubkov as Putin's successor, but rather as a caretaker prime minister, perhaps to be replaced closer to the March presidential vote. Others said they considered his appointment a signal of Putin's intention to retain control after he leaves the presidency.
In promoting Zubkov, whose nomination could be approved by the lower house of parliament as soon as Friday, Putin showed he is still calling the shots.
The plucking of Zubkov from relative obscurity reminded many Russians of Putin's own ascension to power, which began when former President Boris Yeltsin suddenly named him prime minister in August 1999. After the Kremlin secured control over the lower house of parliament in elections the following December, Yeltsin again shocked the nation by stepping down on the last night of the year and naming Putin acting president.
"Here the entire nation is trying to guess who Zubkov is -- a technical prime minister or something else? It was the same situation with Putin," said Boris Nadezhdin, a leader of the liberal Union of Right Forces party.
Some speculated Zubkov would succeed Putin as a caretaker president, allowing Putin to return in 2012 or sooner. Zubkov, who turns 66 on Saturday, is considerably older than most Russian political leaders.
The country had been expecting Putin to wait until after parliamentary elections in December to indicate his candidate to run for president, perhaps by promoting his favorite to prime minister. Russia's two first deputy prime ministers -- former Defense Minister Sergei Ivanov and Gazprom board chairman Dmitry Medvedev -- had been considered the leading contenders.
Zubkov had never been mentioned even as a possible dark horse candidate, although he has been part of Putin's inner circle for many years. He will replace Fradkov, 57, another technocrat, who also was little-known when he became prime minister in March 2004.
Zubkov was praised on state television by a succession of Kremlin loyalists, who described him as an honest, hardworking professional. "He has worked without making noise or raising dust," Ivanov said.
But Kremlin critics said his personal characteristics are of little significance.
"It is not a matter of personalities," said Andrei Illarionov, Putin's former economic adviser who quit in late 2005 after sharply criticizing Kremlin policy. "It's a matter of the organization. It can be Fradkov, Zubkov or another -kov, -ov or -ev. It does not matter."
In any case, a Zubkov government is unlikely to bring a sudden change in policy, as he is an integral part of the team built by Putin since becoming president nearly eight years ago.
Most Russians fully approve of Putin's presidency, which has brought stability and relative prosperity, and are expected to vote for whichever presidential candidate gets Putin's nod.
Sergei Mikheyev, deputy director of the Center for Political Technologies, said he doubted Zubkov is Putin's chosen successor and said Wednesday's shake-up has only confused the situation.
"Earlier we thought the successor would be appointed prime minister and that would be a clear sign of who would be the Kremlin's main candidate," he said. "Now apparently there will be a more complex scenario."
Yevgeny Volk, who heads the Heritage Foundation's Moscow office, said Putin is unlikely to have named his successor Wednesday. The moment Putin does that, "he immediately becomes a lame duck and he wants to avoid that until the last possible moment."
Liberal politicians said the main message of Zubkov's nomination is that Putin is the only source of power in Russia.
"Under the political regime created by Vladimir Putin, everything is possible, and a completely obscure person can be named defense minister or prime minister," Nadezhdin said on Ikho Moskvy radio.
"And Putin may say at any moment that he has changed his mind. There is only one politician in this country: Vladimir Putin."
Grigory Yavlinsky, the leader of the Yabloko party, said the nomination of a person "without a political face" to be prime minister "means that the president is the only source of power." Furthermore, he said in a statement, it is "a move toward the effective extension of Vladimir Putin's rule even after his authority formally ends."
In Washington, State Department spokesman Sean McCormack said the United States is confident it can work with the new prime minister.
In terms of "the development of Russian democracy, we've made known in public, quite clearly, our views about that, some of our concerns about it," he said.
"The upcoming elections we hope will take place in a climate that is free, fair and transparent. That means not just on election day, but in the run-up to election day. I don't detect that today's events will affect that one way or the other."