JERUSALEM -- Israeli Opposition leader Binyamin Netanyahu remained in control of the Likud party after defeating two Likud activists who challenged him in the primary elections Tuesday night.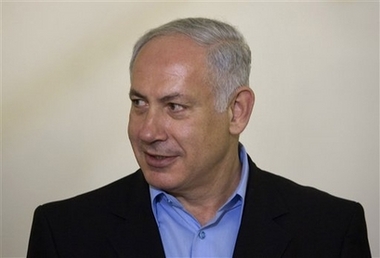 Likud Party leader and former Prime Minister Benjamin Netanyahu arrives to vote at the party's primary elections, in Jerusalem, Tuesday. Aug. 14, 2007. [AP]
With 80 percent of the votes counted, Netanyahu received 73 percent of the votes. The other two candidates in the leadership race, Moshe Feiglin, chairman of the party's Jewish Leadership faction, and World Likud Chairman Danny Danon, received 23 percent and 4 percent respectively, according to the local daily Haaretz.
Netanyahu delivered his victory speech late Tuesday night at the Tel Aviv fairgrounds after interim results awarded him a landslide win in the Likud primary elections.
"Tonight the internal contest ended, and as of tomorrow, we will focus our efforts on bringing a new leadership to Israel," Netanyahu was quoted by Israel Radio as saying to dozens of supporters.
The voting began at 10 a.m. Tuesday morning with some 300 polling stations opened throughout the country and closed at 11 p.m. in the evening. Only 39 percent of the party's 94,944 registered voters cast their ballots.