75 Taliban killed in Afghan clashes
(AP)
Updated: 2007-07-24 19:40
KANDAHAR, Afghanistan - Troops killed at least 75 militants in three separate battles in southern Afghanistan, while the Taliban extended the deadline for the lives of 23 South Korean hostages until Tuesday evening.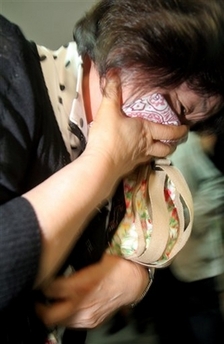 A relative of South Koreans kidnapped in Afghanistan, cries after watching TV news reports of negotiations in Seoul, South Korea, Monday, July 23, 2007. [AP]
South Korea's president appealed for calm as the deadline neared. Afghan elders and clerics were trying to negotiate with militants holding the hostages in central Afghanistan.
In southern Helmand province, Afghan troops ambushed by militants called in airstrikes and fought back with small-arms and mortar fire, the US-led coalition said. The coalition said at least 36 insurgents were killed in the fighting Monday, but no Afghan or coalition troops were hurt.
In Uruzgan province, police clashed for three days with militants blocking the road leading to Kandahar province, leaving 26 militants and two policemen dead, said Wali Jan, the Uruzgan deputy highway police chief. NATO-led and Afghan army troops joined the battle Tuesday, reopening the road for civilians traffic, he said.
Another 13 suspected militants were killed in Kandahar province, the Defense Ministry said.
The battles took place in remote and dangerous parts of Afghanistan, and the death tolls could not be independently confirmed.
Qari Yousef Ahmadi, who claims to speak for the Taliban, said the militants had extended the deadline on the fate of the kidnapped South Koreans another day after the Afghan government refused to release any of the 23 Taliban prisoners the insurgents want freed.
The militants have pushed back their ultimatum at least three times.
"If the government won't accept these conditions, then it's difficult for the Taliban to provide security for these hostages, to provide health facilities and food," Ahmadi told The Associated Press by satellite phone. "The Taliban won't have any option but to kill the hostages."
Though some of Ahmadi's statements turn out to be true, he has also made repeated false claims, calling into question the reliability of his information.