WASHINGTON - Kosovo told Washington on Monday that it did not plan to unilaterally declare independence from Serbia in November, senior officials from the United States and Kosovo said.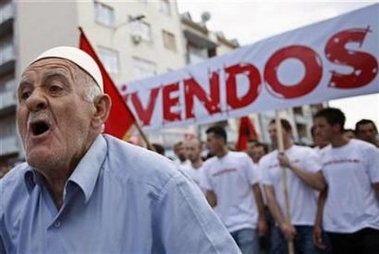 A protest calling for a referendum in central Pristina, June 30, 2007. [Reuters]


Kosovo's leaders gave the assurance during a meeting with US Secretary of State Condoleezza Rice in Washington, spokesman for the Kosovo delegation Skender Hyseni, said. US officials confirmed the message was one of cooperation rather than going it alone.

Serbia opposes independence for Kosovo, seen by many Serbs as their spiritual heartland.

"Today the (Kosovo) unity team once again reassured the United States that we remain close partners of both the United States and the European Union in bringing the independence process to a close," Hyseni told Reuters after the meeting.

Kosovo's Prime Minister Agim Ceku, who met with Rice along with other senior Kosovo officials, had suggested on Friday he could ask the province's parliament to declare independence from Serbia on November 28.

Kosovo's apparent threat to act unilaterally came after the United Nations put aside a resolution on Kosovo's independence when Russia, a close ally of Serbia, said it would use its Security Council veto to block the resolution.

"Kosovo never said actually it was going to declare independence unilaterally without having consulted with our key partners in the international community," Hyseni said.

The United States, while supporting Kosovo's independence, feared any move by Kosovo to act independently could lead to violence in the breakaway province.

US officials relieved

US officials voiced relief after the meeting.

"They made clear that the intensity of their desire for independence has not and will not change, but they will not go off on their own. They will work with the United States and Europe," said a senior Bush administration official who attended the meeting with Rice.

He said Rice had urged patience on the part of Kosovo but she also stressed the US commitment to independence.

"She talked about the need for all of us to do this together, working together," said the official, who spoke to reporters on condition he was not named.

With the UN route closed for the moment because of Russia's opposition, the so-called Contact Group, composed of Russia, the United States, Britain, France, Italy and Germany is expected to conduct talks with all sides for 120 days.

The Contact Group meets on Wednesday in Vienna but no one country has veto rights, as Russia does in the UN Security Council.

Another senior Bush administration official said he expected the 120-day period of shuttle diplomacy on Kosovo's status should begin very soon but he could not give an exact date.

Kosovo, where 90 percent of the 2 million people are ethnic Albanians, has been run by the United Nations since 1999, when a NATO bombing campaign forced out Serbian troops who were killing and expelling Albanians in a two-year war with guerrillas.

Serbia's foreign minister, Vuk Jeremic, is due in Washington on Friday for talks with Rice.