SHANGHAI - In a fresh sign of China's financial strength, a leap in the shares of Industrial & Commercial Bank of China on Monday made it the world's biggest bank by market capitalisation, overtaking US giant Citigroup.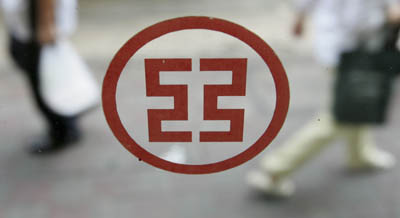 Residents walk past a branch of Industrial and Commercial Bank of China (Asia) in Central, a business district in Hong Kong October 27, 2006. [Reuters]
ICBC's Shanghai-listed A shares surged 2.68 percent to 5.75 yuan, giving it a market capitalisation of $254 billion, according to Reuters calculations.
That exceeded the $251 billion capitalisation of Citigroup, previously the world's biggest bank, when its shares closed at $50.73 in New York on Friday. HSBC Holdings was in third place with $215 billion.
Shares in ICBC, which listed in Shanghai and Hong Kong last October, have gained 15 percent this month on the back of a rally in China's booming stock market as well as strong growth in the bank's own earnings.
Weakness in Citigroup's share price, and appreciation of the yuan against the dollar have also shifted market values in favour of ICBC.
But some analysts believe ICBC's ballooning capitalisation may also be a sign of a dangerously overheated Shanghai stock market as speculating Chinese investors pour money into shares.
ICBC, a state-controlled behemoth which is trying to modernise a creaky branch network operating almost entirely inside China, reported income of $24 billion last year.
Citigroup, one of the world's most sophisticated financial institutions with operations around the globe, reported income almost four times as large, at $90 billion.
ICBC's share price on Monday valued it at 28 times analysts' forecasts for its earnings per share in 2007, far above 11 times for Citigroup and an average of 16 times for major global banks, according to Reuters Estimates.