WASHINGTON - The United States has set 2008 as the target for full implementation of an accord to end North Korea's nuclear drive, including a final peace deal for the Korean peninsula, top US nuclear envoy Christopher Hill said Monday.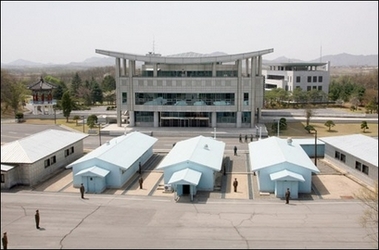 The truce village in Panmunjom, in the Demilitarized Zone (DMZ), seen from the North Korean side of the border. The United States has set 2008 as the target for full implementation of an accord to end North Korea's nuclear drive, including a final peace deal for the Korean peninsula, top US nuclear envoy Christopher Hill said Monday. [Agencies]


"It would be in 2008 we would really want to wrap this up," he told reporters in Washington on his return from six-party talks in Beijing.

"The sooner the better, I mean, from my humble perspective. But in 2008 we would hope to wrap this up. I hope it wouldn't take 12 months," Hill said.

With the next US presidential elections in November 2008, the administration of President George W. Bush is eager to complete the implementation of the complex nuclear deal before he vacates the White House.

Under the deal, North Korea has to disable its nuclear program in return for aid and diplomatic and security guarantees, including diplomatic relations with Washington and a permanent accord to formally end the 1950-53 Korean War.

North Korea has already shut down its main Yongbyon nuclear reactor as promised under a February 13 accord reached by the six parties - the United States, China, Russia, the two Koreans and Japan.

In September, the six parties hope to adopt a comprehensive program with possibly a 2007 deadline for North Korea to declare and disable its entire nuclear program under phase two of the nuclear accord.

Hill said that "realistically speaking, if we can get phase two done by the end of the year, then we can address some of the other elements that are there," citing as an example the planned setting up of a Northeast Asian security forum and signing of a peace treaty to officially end the Korean War.

"And realistically speaking, if we can't get that (second phase) going by the end of '07, it's going to be tough to complete it by the end of '08, which would be our target time," Hill said.

Hill hinted of difficulties facing such planned time frames.

"I suspect we're going to have some eleventh-hour negotiations," he said of the process of putting together a so-called "sequencing plan" with the disabling of North Korea's nuclear program.

"So let's see if we can get something that makes sense by early September and then try to implement it," he said.

Once the program for North Korea to disable its nuclear program is ready in September, Hill said foreign ministers of the six countries would meet for the first time since the talks began in 2003 "to bless what we've done and look ahead."

Asked whether North Korea would have enough time to disband its nuclear program within three months from September as anticipated, Hill said: "My own view is yes, it could be done.

"If they want to get it done, it can be done. I think disabling activities are not a matter of months; they're a matter of weeks," he said.

Hill explained that the program to disband the nuclear activities was linked to energy aid - totalling 950,000 tonness of heavy fuel oil or the equivalent of that in economic assistance - to North Korea.

Pyongyang, facing storage problems, may not be able to absorb all the pledged fuel within a short time and a working group would determine what kind of equivalent aid could be given, he said.

On North Korea's demand for a light-water reactor as compensation for shutting down its nuclear program, Hill said Washington was prepared to discuss it when North Korea"gets out of this dirty nuclear business that they've been in and returns to the NPT (Nuclear Non-Proliferation Treaty)."

The six nations agreed in September 2005 to discuss furnishing North Korea with light-water reactors "at an appropriate time."

DPRK, ROK open high-level military talks

DPRK and ROK opened high-level military talks Tuesday, with a disputed sea border off the divided peninsula's west coast likely to remain a key sticking point.

Two-star generals are representing each side in three days of meetings at the truce village of Panmunjom in the middle of the Demilitarized Zone running between North Korea and South Korea.

The talks - the highest-level regular dialogue channel between the two militaries - are aimed at following up on agreements reached at a previous session in May. They include setting up a joint fishing area around the disputed maritime border off the peninsula's west coast and preparing security arrangements for joint economic projects near the border.

The two sides have since held three rounds of lower-level talks to discuss the agreements, but no progress has been made because North Korea repeated its long-running demand that the sea border be redrawn further south. This week's meetings could also see little headway if North Korea raises the issue again.

The border issue has been a constant source of dispute on the divided peninsula. North Korea does not recognize the current sea border demarcated by the United Nations at the end of the 1950-53 Korean War.

Pyongyang claims the border is too far north and complains that vessels from the South often enter its waters. South Korea flatly denies the accusations.

North Korea's navy command has issued a series of warnings in recent months that a skirmish along the disputed maritime border in the Yellow Sea - the scene of deadly clashes in 1999 and 2002 - could occur again unless South Korean vessels stop entering North Korea's waters.