SEOUL - North Korea defended its shock nuclear weapons test as the only way to avert a war as its chief negotiator met with his US counterpart to discuss resuming multi-party disarmament talks.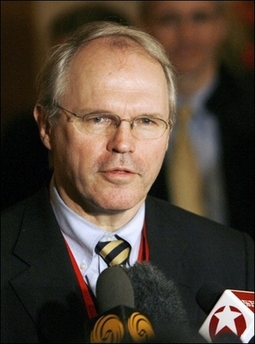 US Assistant Secretary of State Christopher Hill, pictured in Beijing last month, held a rare meeting Tuesday with North Korean counterpart Kim Kye-Gwan at the US embassy in Berlin to discuss resuming multi-party disarmament talks.[AFP]


US envoy Christopher Hill held a rare meeting Tuesday with the North's Kim Kye-gwan at the US embassy in Berlin and, although there was no breakthrough, officials said it set the pace for a resumption of full six-party talks.

"The Berlin meeting should lay a good groundwork for an agreement on what initial steps to take to implement the September 19 statement," South Korea's foreign minister Song Min-Soon said, referring to a 2005 accord offering the North security and economic aid guarantees in return for disarmament.

Rodong Sinmun, North Korea's ruling party paper, said the October 9 test, the regime's first atomic weapons detonation ever, was in self-defence.

"There is no doubt that a war would have broken out... if (North Korea) had failed last year to shatter the moves of the US imperialists to provoke a war against it with its strong self-defensive deterrent," it said.

It accused the United States of "still whetting the sword of aggression" against North Korea under the disguise of seeking peaceful dialogue.

The test triggered global outrage and UN sanctions, and in December senior negotiators from the six nations in the talks - the two Koreas, China, Japan, Russia and the United States - met for five days in Beijing.
Special coverage:
North Korea Nuclear Crisis

Related readings:
Nuke talks yield new consensus
North Korea not budging on sanctions
US plans one-on-one N.Korea talks
N. Korea, US discuss nukes
Negotiations "deepening" in nuclear talks
I'm dreaming of a nuke-free Christmas
US, N.Korea begin financial meeting
North Korea insists on nuclear status
Six parties stress "action-to-action"
N.Korea wants UN sanctions lifted
Six-party talks resume in Beijing
Hopes for progress of talks low
No progress was reported as North Korea refused substantiative discussions about nuclear disarmament in protest at separate US financial sanctions.
Bilateral US-North Korean talks on the financial sanctions, notably on a Macau bank accused of illicit dealings on behalf of Pyongyang, are to resume next week.
No date has been fixed for the next round of full six-party negotiations, however.
Song urged Pyongyang to "initiate the process of dismantling its nuclear programmes" to enable others to "take corresponding steps" in return.
In December's talks in Beijing, the United States reportedly demanded that North Korea report all of its nuclear facilities and programme and accept UN atomic agency inspectors.
The United States was also said to have demanded the closure of the North's plutonium-producing reactor in Yongbyon and its nuclear test site.