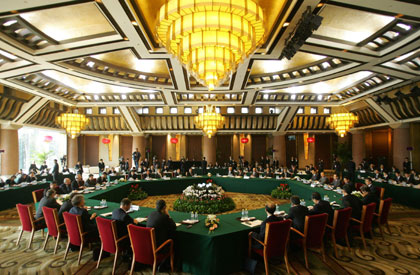 Six-party talks resume in Beijing with top envoys representing their respective countries seated around the table for discussions at the Diaoyutai State Guesthouse in Beijing December 18, 2006. [Reuters]



North Korea insisted Monday it be treated as a full-fledged nuclear power as six-nation arms talks convened for the first time since its atomic test, but the United States said time was running out for Pyongyang to dismantle its nuclear arsenal and threatened more sanctions.

US officials dismissed North Korea's opening comments as unsurprising rhetoric, while the chief American delegate said it was time to move forward on disarmament.

"The supply of our patience may have exceeded the international demand for that patience, and we should be a little less patient and pick up the pace and work faster," envoy Christopher Hill told reporters.

The resumption of the talks -- consisting of the United States, China, Japan, Russia and the two Koreas -- came after a more than 13-month break during which North Korea test-fired a new long-range missile in July and then set off an underground atomic blast October 9.

North Korea had refused to return to the multinational talks in anger over the US blacklisting of a Macao bank where Pyongyang deposited some US$24 million, alleging the bank was complicit in the North's counterfeiting of US$100 bills and money laundering to sell weapons of mass destruction.

On Monday, the North again called for Washington to lift those restrictions and demanded UN sanctions imposed for its nuclear test explosion be lifted, according to a summary of its opening statement released by one of the delegations.

Washington previously agreed to discuss the financial issue at separate talks alongside the nuclear meeting. Experts from Pyongyang were expected to arrive in Beijing on Tuesday, although Treasury officials in Washington said a time and a place for the talks had not been set.

North Korea demanded again Monday that it be given a nuclear reactor for electricity generation and also that its struggling economy get other help in meeting its energy needs until the reactor is built.

Pyongyang repeated its assertion that it be considered a nuclear weapons power and that the talks be transformed into negotiations over mutual arms reductions in which it would be accorded equal footing with the United States. If its demands aren't met, the North said, it would increase its nuclear arsenal, according to the summary.

But the United States and other countries stressed the main focus would be on getting Pyongyang to give up atomic arms.

"We would like denuclearization via a diplomatic negotiation. If they don't want that, we're quite prepared to go the other road ... which is a pretty tough road," Hill said, implying North Korea could face further international sanctions.

In Washington, US Undersecretary of State Nicholas Burns brushed off the North's opening salvo as no surprise.

"If past is prologue, I mean that's the way the North Koreans operate," he said. "Let's see where we are by the end of the week."

Burns said the talks were expected to last three or four days, with Hill expected back in Washington before Christmas.

Hill said he expected to have talks with the North's delegation, but added that the US would not give up the multi-nation negotiations to engage in one-to-one talks with Pyongyang.

"The reason," he said, "is that we want other countries to take responsibility for their security in the region, namely China."

Japanese negotiator Kenichiro Sasae told reporters that North Korea would have to give ground. "The position of the North Korean delegation is wide apart from the rest of us and we cannot accept it," he said.

In Tokyo, Japanese Prime Minister Shinzo Abe said his government expected North Korea to be more flexible. "North Korea should take a step forward toward the dismantlement of its nuclear weapons," he said.

The North pledged in September 2005 to abandon its nuclear arms program in exchange for economic aid and security guarantees, and Hill said the other countries at the talks hoped to lay out a plan to form working groups to discuss its implementation.

"What I want to see from the North Koreans is a willingness to get on with implementing their elements of the September agreement," Hill said. "Our expectation is to get this done this week.

China noted the sides had some "very pronounced differences" but pushed for results.

"We have finished the stage of commitment for commitment and now should follow the principle of action for action," Foreign Ministry spokesman Jiang Yu told reporters, echoing phrasing from the earlier agreement.

South Korean nuclear negotiator Chun Yung-woo proposed that the parties push for implementing the 2005 agreement within a few months.

"We urged North Korea to take bold and substantial initial steps to dismantle its nuclear program and stressed that the other five countries' corresponding measures should also be bold and substantial," he told reporters.

The latest North Korean nuclear crisis erupted in 2002 after US officials said the North had admitted to a secret nuclear program in violation of a 1994 disarmament deal, leading to Pyongyang's withdrawal from the Nuclear Nonproliferation Treaty.

North Korea is believed to have enough radioactive material to make about a half-dozen atomic bombs, and its main nuclear reactor remains in operation to create more weapons-grade plutonium.