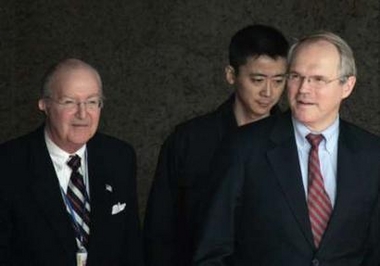 US Assistant Secretary of State Christopher Hill (R) and US Ambassador to China Clark Randt (L) walk out of Beijing airport ahead of the Six Party talks December 17, 2006. [Reuters]


Top US envoy Christopher Hill has called on North Korea to "get serious" about ending its nuclear weapons programs, as six party talks on the issue were set to resume after a year's delay.

Upon arrival in Beijing, Hill said he was prepared to meet one-on-one with his North Korean counterpart Kim Kye-Gwan, who Saturday voiced pessimism over the talks and accused the United States of a "hostile policy."

"What the DPRK (North Korea) needs to do is to get serious with denuclearization," Hill said Sunday.

"If they get serious with denuclearization, a lot of good things can happen ... if they do not get serious about denuclearization such things will go away."

A series of bilateral meetings between the six parties -- hosts China, the two Koreas, the United States, Russia and Japan -- were held Sunday ahead of a welcoming banquet, Chinese officials said.

Following the banquet, Hill said he would likely meet with Kim in a bilateral meeting on Monday, with other diplomats saying the likely topic would be US sanctions that led to North Korea walking out of the talks last year.

"I'm neither pessimistic or optimistic," Hill said following the banquet in which all the heads of the delegation embraced in a handshake.

"We'll know tomorrow whether we are going to make some progress or not."

Earlier Hill expressed hope that during the talks North Korea would be able to discuss the dismantling of its nuclear programs as agreed in a September 2005 deal brokered in an earlier round.

"I hope they are coming here with a serious intention of moving ahead and implementing the September agreement," Hill said.

The September 2005 deal calls for Pyongyang to give up its nuclear weapons in return for aid and security guarantees.

But North Korea walked out of the talks a few weeks after the agreement was struck to protest unilateral US financial sanctions on a Macau-based bank accused of laundering and counterfeiting money on behalf of the impoverished regime.

Pyongyang then fundamentally changed the dynamics of the negotiation process with an October 9 nuclear test, which was condemned worldwide and resulted in UN Security Council sanctions on North Korea.

On Saturday after arriving in Beijing, Kim said the talks would fail unless Washington ended its "hostile policy" -- which the North has insisted is the reason behind its nuclear program.

"The nuclear issues cannot be resolved until the United States takes a co-existence policy," Kim said. "I'm not optimistic about prospects for the six-party talks."

North Korea has also long-demanded that the US financial sanctions be lifted.

"Its precondition is for the sanctions imposed on us to be lifted. I do not yet know whether the US is prepared to do that," Kim said, adding they would be prepared to discuss some promises contained in the 2005 deal.

According to Chinese officials, Vice Foreign Minister Wu Dawei held two-way meetings Sunday at the Diaoyutai State Guesthouse with his counterparts from South Korea, Russia, Japan and the United States.

The US and South Korea also would hold a bilateral meeting, South Korean diplomats said.

China has urged all sides to maintain flexible and pragmatic attitudes and urged patience and restraint in the negotiations.

On Saturday in Tokyo, Hill said the United States hoped to resolve the financial sanctions issue but that Washington was more concerned with denuclearizing North Korea.

"We want to resolve this. That will of course depend on their cooperation and depend on legal matters as well," Hill said after evening talks in Tokyo with Japanese officials.

Japanese negotiator Kenichiro Sasae, who also arrived Sunday, said Tokyo was further interested in discussing a series of North Korean abductions of Japanese nationals that have plagued ties between the rivals for years.

"It's significant that North Korea takes a specific step toward abolishing the nuclear programs," Jiji press quoted Sasae as saying.

"We also need to talk forthright about the abduction issue."

Meanwhile, Japanese Foreign Minister Taro Aso expressed pessimism over the prospects of progress in the talks.

"This is the first time that we have the six-way negotiations after the North conducted the nuclear test, so we have to start from there and I don't think it would be easy," Aso said in Tokyo.