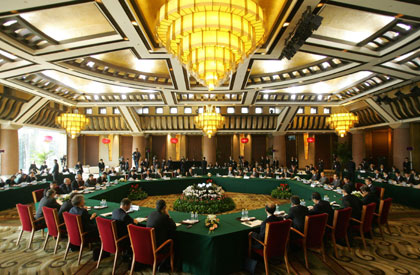 Six-party talks resume in Beijing with top envoys representing their respective countries seated around the table for discussions at the Diaoyutai State Guesthouse in Beijing December 18, 2006. [Reuters]



Six-country talks on scrapping North Korea's nuclear arms resumed on Monday after a one-year standoff, but hopes for progress were not high after Pyongyang made clear that its priority was ending a US cash squeeze.

North Korea repeated its demand Monday that the US drop its "hostile" policy against Pyongyang as a condition for disarmament at revived nuclear talks, a South Korean official said.

"North Korea basically seems to say that it cannot dismantle its nuclear program unless the US drops what it calls a hostile policy," a South Korean official said on condition of anonymity due to sensitivity of ongoing talks.

The North said it doesn't care if other countries accept it as a nuclear state and that it was just satisfied with the fact it had nuclear weapons, the official added.

North Korea outlined a series of strong demands in its opening remarks at revived nuclear talks, the first held since its October 9 atomic test.

"North Korea has listed the maximum demands it can make in its speech," the official said. North Korea's speech "covered all issues that had been brought up so far."

The North will meet with the US delegation later Monday, according to the South Korean official.

US envoy Chris Hill told reporters before joining other negotiators at a hexagonal table in a secluded Beijing state guesthouse that he hoped to be home for Christmas.

But Beijing said the talks, the first between the two Koreas, the United States, China, Japan and Russia since Pyongyang staged its first nuclear test on October 9, would be tough.

"The issues to be discussed and addressed by this meeting are complex and profound, and the tasks borne by all the parties are both glorious and arduous," Chinese Vice Foreign Minister Wu Dawei told delegates, the Xinhua news agency reported.

North Korea's nuclear test drew international condemnation and UN sanctions.

But most officials and observers believe this week's talks are unlikely to draw a swift compromise from an emboldened North Korea, which now refers to itself as a nuclear state.

Wu said the six negotiating teams, who were accompanied by a throng of interpreters to translate the arcane terminology of nuclear diplomacy into five languages, would discuss "specific measures" to implement a joint statement of September 2005.

In that statement, North Korea agreed in principle to give up nuclear weapons in return for aid and security guarantees.

NO SOFTENING

Chris Hill said on Sunday the time had come for Pyongyang to make good on its disarmament promise, warning North Korea that the alternative was deeper isolation and sanctions.

"If they want a future with us, if they want to work with us, if they want to be a member of the international community, they're going to have to get out of this nuclear business," he said.

A US Treasury Department delegation was expected to meet the North Koreans separately to discuss the US crackdown on Pyongyang's alleged counterfeiting and money laundering.

But the North's chief envoy, Kim Kye-gwan, showed no softening on the eve of the meeting, telling Washington to drop financial restrictions if it wanted the 2005 accord implemented.

Underlining the low expectations, South Korean envoy Chun Yung-woo said the talks would be "exploratory." US Secretary of State Condoleezza Rice said last week they were part of a process that could not be judged by one session.

Washington has found a vigorous ally in Beijing, whose traditional support for its communist neighbor has dimmed.

Most Chinese analysts agree that the nuclear blast, which China publicly warned against, galvanized Beijing policy-makers to pressure Pyongyang more actively.

"Beijing's policy has changed markedly. Now China is pushing North Korea harder than before to keep its commitments in the joint statement," said Zhu Feng, an international security expert at Peking University. "The test crisis led to the view that we cannot just always view this as their (US) business."

North Korea wants UN sanctions lifted

North Korea demanded Monday that all UN sanctions and US financial restrictions be lifted before it dismantles its nuclear weapons program. The US said it would normalize relations with the North if it scraps the program.

The demands came at the start of the first full arms talks since Pyongyang first tested a nuclear bomb on Oct. 9, with envoys from the six nations involved in negotiations meeting after a 13-month hiatus.

The North repeated its demand that it receive a nuclear reactor to be used for generating energy before it abandons its weapons program. It also wants energy supplies until the new facility is built, according to a summary of opening speeches released by one of the delegations involved.

If those demands aren't met, North Korea said it will continue with its weapons program.