N.Korea wants UN sanctions lifted
(AP)
Updated: 2006-12-18 16:51
SEOUL, South Korea - North Korea demanded Monday that all UN sanctions and US financial restrictions be lifted before it dismantles its nuclear weapons program. The US said it would normalize relations with the North if it scraps the program.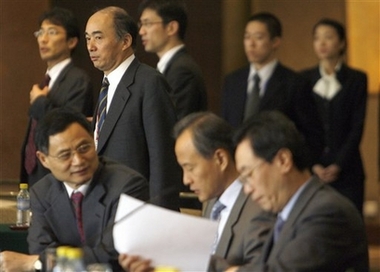 Top Japanese envoy Kenichiro Sasae, standing in second row, arrives for the resumption of Six-Party Talks as China's Deputy Foreign Mminister Wu Dawei , seated at right, gathers his notes ahead of round-table discussions at the Diaoyutai State Guesthouse in Beijing Monday, Dec. 18, 2006. International talks on North Korea's nuclear program convened Monday for the first time in 13 months following a boycott by the communist nation during which it tested an atomic device for the first time. [AP]



The demands came at the start of the first full arms talks since Pyongyang first tested a nuclear bomb on Oct. 9, with envoys from the six nations involved in negotiations meeting after a 13-month hiatus.

The North repeated its demand that it receive a nuclear reactor to be used for generating energy before it abandons its weapons program. It also wants energy supplies until the new facility is built, according to a summary of opening speeches released by one of the delegations involved.

If those demands aren't met, North Korea said it will continue with its weapons program.
Most Commented/Read Stories in 48 Hours