N.Korea nuclear talks end without deal
(Reuters)
Updated: 2006-12-22 17:28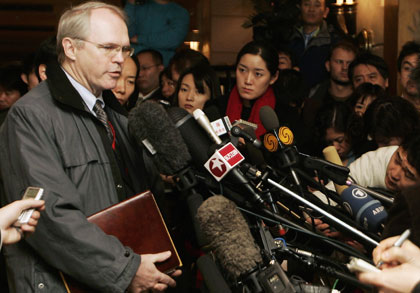 Top US envoy for the six-party talks Christopher Hill (L) speaks to media in Beijing December 21, 2006. Six-party talks on scrapping North Korea's nuclear weapons were set to gain momentum on Thursday after the chief US negotiator raised guarded hopes of agreement by week's end on preliminary steps towards that goal. [Reuters]



Diplomatic efforts to persuade North Korea to scrap its nuclear weapons ended with no deal on Friday after a week of six-party talks, Interfax news agency reported, quoting a source close to the Russian delegation.

The negotiations broke up "without concrete result", the report said.


Special coverage:
North Korea Nuclear Crisis

Related readings:
Nuke talks yield new consensus
North Korea not budging on sanctions
US plans one-on-one N.Korea talks
N. Korea, US discuss nukes
Negotiations "deepening" in nuclear talks
I'm dreaming of a nuke-free Christmas
US, N.Korea begin financial meeting
North Korea insists on nuclear status
Six parties stress "action-to-action"
N.Korea wants UN sanctions lifted
Six-party talks resume in Beijing
Hopes for progress of talks low
A chairman's statement said that six parties agreed to implement the joint statement of September 19, 2005 as soon as possible "in a phased manner."

Under the joint statement, the DPRK agreed to abandon its nuclear program in exchange for economic aid and security guarantees.

The chairman's statement was announced by chief Chinese negotiator Wu Dawei, with other five top envoys standing beside him.

Delegates would now take a break and no date was set for a resumption, Yonhap news agency reported, citing a source involved in the talks.

Envoys had wanted to focus on a September 2005 agreement that offered the North aid and security guarantees in return for disarmament, but Pyongyang remained preoccupied with getting US financial curbs against it lifted.

"Our goal is denuclearisation. Period," chief US envoy Christopher Hill told reporters on the fifth day of this round of talks. "They need to show some seriousness of purpose on denuclearisation."

The talks, which group the two Koreas, the United States, China, Japan and Russia, took place in the shadow of the North's first nuclear test on October 9.

They were the first negotiations in more than a year. North Korea pulled out in anger over a freeze on its accounts at Macau's Banco Delta Asia, which Washington said was complicit in Pyongyang's alleged money-laundering and dollar counterfeiting.

North Korea said the financial curbs -- announced shortly after the breakthrough September 2005 deal -- showed Washington had negotiated in bad faith.

But Hill questioned just how seriously North Korea wanted to talk about disarmament, saying the financial dispute was a pretext to avoid the real issue at hand.

"One day it's financial issues, another day it's something they want but know they can't have, another day it was something that was said that hurt their feelings. It's one thing after the other," he said.

NO PROGRESS

Hill said early on Friday he was unsure about if or when talks could resume.

"The purpose is denuclearisation, so we'll have to evaluate this round in terms of whether we've moved towards that goal."

"It all comes down to the question of are they serious, are they acting responsibly? And I think that question is very much unanswered," he said.

Failure to make progress would call into question the multilateral negotiations, Japan's chief envoy said.

"I think various opinions will emerge on the credibility of the six-party talks," Kenichiro Sasae told reporters.

Earlier in the week, Hill had hinted at progress on a deal on concrete steps North Korea would take toward scrapping its nuclear arsenal, which would probably include allowing back international inspectors Pyongyang expelled in 2002.

But envoys say the North has since refused to talk about anything but financial curbs.

In Washington, US Secretary of State Condoleezza Rice echoed her government's view that the financial issues and the nuclear talks should be kept apart, and said the North Koreans had themselves asked for a separate working group on the matter.

The United States met that demand, sending a separate Treasury delegation that held talks with North Korean officials in Beijing for two days this week. They reached no agreement, but are expected to continue in New York in January.


Most Commented/Read Stories in 48 Hours