No sign of breakthrough at nuke talks
(AP)
Updated: 2006-12-22 11:23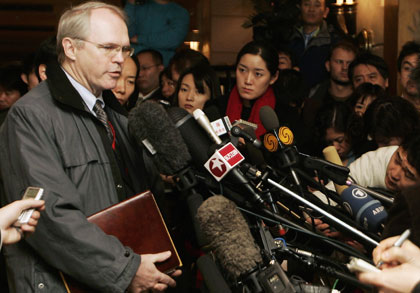 Top US envoy for the six-party talks Christopher Hill (L) speaks to media in Beijing December 21, 2006. Six-party talks on scrapping North Korea's nuclear weapons were set to gain momentum on Thursday after the chief US negotiator raised guarded hopes of agreement by week's end on preliminary steps towards that goal. [Reuters]



The US envoy to six-party talks on dismantling North Korea's nuclear weapons program said Friday that there were no signs of a breakthrough in the talks and accused the North of not being serious about the negotiations.


Special coverage:
North Korea Nuclear Crisis

Related readings:
Nuke talks yield new consensus
North Korea not budging on sanctions
US plans one-on-one N.Korea talks
N. Korea, US discuss nukes
Negotiations "deepening" in nuclear talks
I'm dreaming of a nuke-free Christmas
US, N.Korea begin financial meeting
North Korea insists on nuclear status
Six parties stress "action-to-action"
N.Korea wants UN sanctions lifted
Six-party talks resume in Beijing
Hopes for progress of talks low
Asked if there were any indications of a breakthrough after four days of negotiations, US Assistant Secretary of State Christopher Hill said, "No, I am not aware of any."

Hill said Friday would be the final day of talks and that he planned to leave China on Saturday. However, the Chinese six-party press center said it was still uncertain when the talks would conclude.

Japanese envoy Kenichiro Sasae said delegates would consider dropping the current format involving six countries at a meeting later Friday.

"There will be opinions questioning the credibility of the six-party talks," Sasae said, without elaborating. He did not say what alternative formats would be proposed, if any.

He said Japan would "continue to make efforts so that North Korea will acknowledge the importance of this opportunity and realize this if they lose this chance they will face an even more difficult situation."

Sasae stopped short of declaring the six-party process a failure, saying it was "too early" to say that.

Since the talks began Monday in the wake of North Korea's October 9 nuclear test, the North has refused to get into substantive discussions on its atomic weapons, envoys said. Instead, the North has complained about the US blacklisting a Macau bank, where North Korea allegedly laundered money to help fund its weapons programs.

"When the DPRK raises problems, one day it's financial issues, another day it's something they want but they know they can't have, another day it's something we said about them that hurt their feelings," Hill said. DPRK stands for the Democratic People's Republic of Korea, the North's official name.

"What they need to do is to get serious about the issue that made them such a problem ... their nuclear activities," he said.

In Washington, Secretary of State Condoleezza Rice said North Korea had given the United States no reason to believe it is serious about dismantling its nuclear weapons. "That's what we're testing" in the disarmament talks, she said in an Associated Press interview Thursday.

South Korean envoy Chun Yung-woo said Friday that any meaningful success at the current round of talks depends on "what position North Korea brings today."

"There are many fundamental differences in opinions, but we are exchanging opinions and exerting efforts to narrow the gap in opinions," Chun said.

Hill late Thursday said the financial restrictions were a defense against weapons proliferation, warning Pyongyang would find itself further economically isolated if it doesn't disarm.

He also said the North Korean delegation had apparently been instructed by superiors to resolve the financial issue before talking about nuclear weapons.

American and North Korean experts consulted on the financial restrictions for two days this week in Beijing separately from the nuclear talks, but made no breakthroughs and were possibly meeting again next month in New York.

"The situation remains severe and there is no prospect for a breakthrough," Japan's Sasae said late Thursday. "North Korea's claims and its position on financial issues are very firm and inflexible and that is the biggest cause of the difficulty."

The North has maintained it needs nuclear weapons because of the "hostile" policy of the United States, citing issues including the financial campaign, criticism of North Korea's human rights record and US-South Korean joint military exercises.

Meanwhile, a South Korean lawmaker said Thursday there were signs North Korea could conduct another nuclear test.

Rep. Chung Hyung-keun of the main opposition Grand National Party, a former intelligence official, said North Korea dug two underground tunnels at a mountain in the country's northeast and used one of them for its earlier nuclear test.

"There has been brisk activity since this month" at the other tunnel, he said.


Most Commented/Read Stories in 48 Hours