A dash of modernity - trendy B&Bs near Wuzhen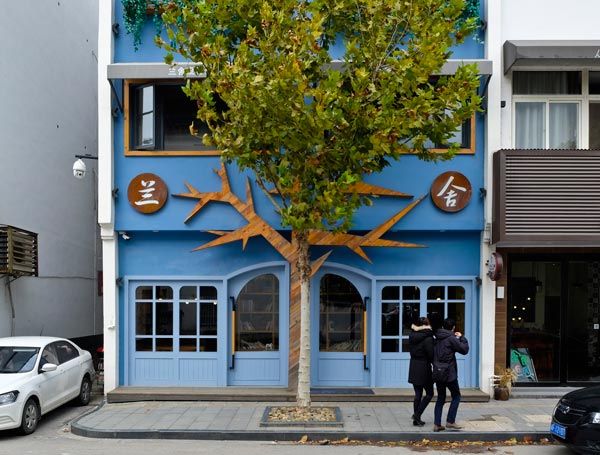 Lan She is among the minsu hotels near the ancient water town of Wuzhen in Zhejiang province. [Photo by Alywin Chew/China Daily]
Located just outside Wuzhen, an ancient river town in Tongxiang city, East China's Zhejiang province, Ciyun Road has over the past few years garnered the reputation for being an enclave for contemporary minsu (Chinese-style bed-and-breakfast) that offers travelers a refreshing alternative to local hotels with dated decor or those located within the scenic zone.
One of the newest kids on the block is Muji Art Villa at No 517 Ciyun Road, which stands out prominently against the landscape with its modern white facade. From afar, the white building does indeed look like an art space.
The interior of the main lobby, which comprises the reception desk, a bar counter and seating areas, features an eclectic mesh of industrial, whimsical and country styles. While all the walls are either in black or white, the furnishings provide a welcome injection of color into the various spaces.
"Before we opened this place we spent a long time thinking about the color of the walls. We then realized that colors are rather seasonal in the sense that green could be popular this year, but pink could be the 'hot' color next year," says Zhao Ti, who runs Muji Art Villa with her brother Liu Kun.
"That's when we decided to go with black and white. We wanted a minsu that bore the characteristics of its location and we felt these two colors reflected how timeless Wuzhen is."
Having come from creative backgrounds, the siblings made the majority of the design decisions. Zhao majored in interior design during her time at Yangzhou Polytechnic College while Liu is a graphic artist.