Malacca set to showcase its history with China-style outdoor show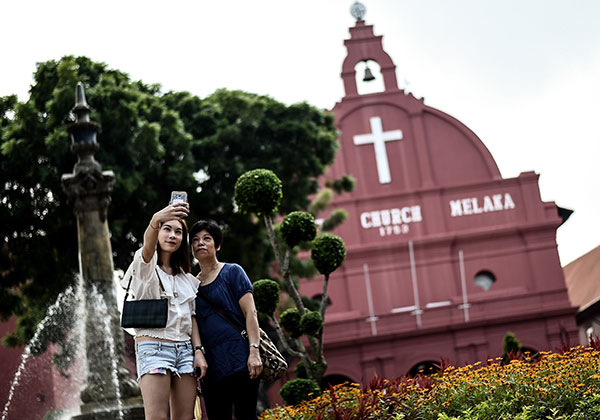 Tourists pose for a selfie in front of the 18th-century Anglican church in Malacca. [Photo/Agencies]
KUALA LUMPUR-Boo Kuang Loon, a Malacca-born businessman, had always wanted to contribute to the Malaysian city's cultural richness. But he never thought that a letter to Zhang Yimou, a renowned Chinese director, would make his dream come true.
In early 2013, when traveling in China, Boo was stunned by Impression Liu Sanjie, an outdoor show directed by Zhang held in Yangshuo, Guangxi Zhuang autonomous region.
He then wrote to the director, who is well known for films such as Hero and The Great Wall, expressing his hope that Malacca, a historical state in southern Malaysia, could have a similar show to tell its story to the world.
Two months later, Boo got a reply from Zhang.
The director visited Malacca and told Boo he also loved the historical state.
So, they decided to replicate the successful cultural show in Malacca.
After more than four years, Impression Melaka, made at a total cost of 300 million ringgit ($72 million), is on track to have its premiere in the first quarter of 2018.
"I remembered that when I saw the impression series in Guangxi I was impressed with how the show was done, and its effect on the audience," says Boo, the chief executive officer of the cultural and tourism firm Yong Tai, which owns Impression Melaka.
Boo is confident that the show will receive an overwhelming response as it is in line with international standards.
"(It's true) that there are a lot of cultural performances in Malaysia that have not done well. But if we do it according to international standards, I don't think we will fail. That's why we brought in Zhang who is a director who conducted the 2008 Beijing Olympics opening and closing ceremonies," says Boo.
He also sees the show as an Asian way to showcase Malacca's culture and story.
"The people of Malacca are looking forward to it," says Boo, adding that it can fill a gap as not many nighttime cultural activities are available in the state.
Boo says the builder is topping off the theater now, and he has started the process of recruiting performers.
"Directors and technicians from China will come next month to begin training and trial performances," says Boo. The first show is expected to be held in March.
Yong Tai is also in negotiations with several travel agencies, including those in China, to promote ticket sales. Some deals are expected to be realized next month.
"The feedback has been positive so far. We are close to meeting our target," says Boo.
The group forecast the outdoor theme production in Malacca could attract as many as 1.4 million visitors per year.
He estimates that 40 percent of tourists will come from China, while those from the Association of Southeast Asian Nations countries and Malaysia will account for 20 and 30 percent, respectively. The rest will come from the United States and Europe.
The good relations between Malaysia and China has put Malacca in a better position to compete with other regions when it comes to tourism.
This is especially evident as the state has been recognized as a key development state under the Belt and Road Initiative, with more Chinese investments coming in, says Boo.
Should the show be a success in Malacca, Boo and director Zhang may replicate it in other Southeast Asian countries.
"We are looking at Indonesia and Thailand, which have great potential," says Boo.