Closer encounter with nature at Huangshan International Mountaineering Festival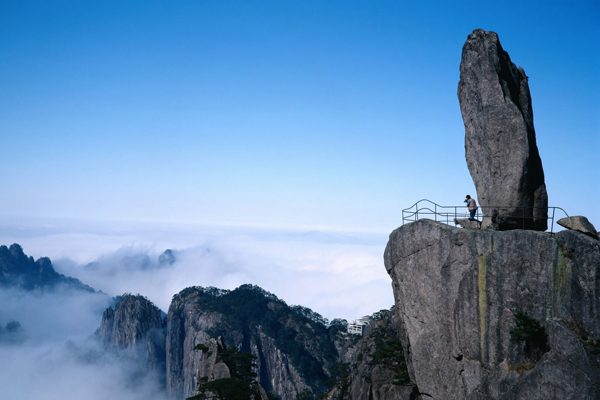 'Flying-over Rock' [Photo/CGTN]
The best time to appreciate this phenomenon is from November to May, especially after rainy days, as well as at sunrise or sunset.
Lotus Peak and Celestial Capital Peak at the South Sea, and Bright Top at the Middle Sea are the three tallest peaks. These are believed to be the best locations to view the stunning cloud seas.
Old and strangely-shaped pines are scattered on the peaks and ravines of the mountain. The Huangshan pines are a uniquely classified tree species in botany as they don't normally grow in the earth, but root on steep cliffs.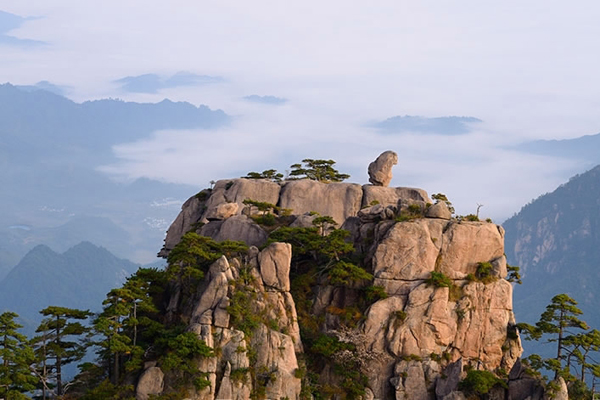 'Monkey Watching the Sea Rock' [Photo/CGTN]
Most living for more than 1,000 years, these sturdy pines have crooked and twisted branches are seen as a symbol of vigor and vitality.
Greeting Guest Pine is the most famous pine as the 10-meter high tree grows like a man standing by the path and stretching out his hand to guests in a greeting gesture.